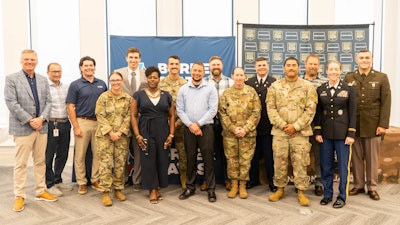 Border States
FARGO, N.D. — Border States on Thursday joined the U.S. Army Partnership for Your Success program to provide America's military personnel an opportunity to interview and for possible employment while in the National Guard.
The event was held in Fargo at the Border States Branch Support Center, where veterans from Border States were on hand to witness the ceremony. Border States also broadcast the event through Facebook Live to promote the PaYs program.
The PaYS program provides our nation's employers with a pool of highly skilled, motivated and responsible candidates from which they may fill their personnel needs. Soldiers who participate in the program gain leadership, valuable professional and technical skills, experience and can feel confident in their career opportunities with their five chosen PaYS partners.
"We need to be intentional about attracting and retaining the best talent possible. This new chapter in Border States' recruitment gives us tremendous access to great talent," said CEO David White. "That's why PaYS is a perfect fit — and I can't wait to get started. I'm also looking forward to helping promote PaYS, so more and more companies join the program and help us do good to leave the world better than we found it."
Lt. Col. Nicolette Daschendorf, Commander, Recruiting and Retention Battalion, North Dakota Army National Guard, was at the Support Center to sign on behalf of the U.S. Army.
"In a time when people are questioning patriotism and or civic duty, Border States has raised its hand and said we value service members and veterans and we want them on our team," said Lt. Col. Daschendorf.
Donise Farmer, Director of Diversity, Equity and Inclusion, signed on behalf of Border States.
"This program will provide Border States with highly skilled and qualified veteran candidates for a variety of positions," said Farmer. "This partnership will create an evolution of opportunities to change the lives of many who put their lives on the line for each one of us."