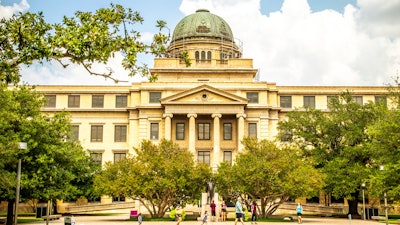 iStock
You can attend as many classes as you like to learn strategies and gain insights about your industry, but nothing comes close to the skill building that happens when you apply what you're learning in a real-world scenario.
Doing so while you're actively pursuing your advanced degree, such as the Master of Industrial Distribution (MID) from Texas A&M University, has the added benefit of real-time support as you apply that learning.
In the MID program, all students must complete a Capstone Project that allows them to explore and apply the knowledge they've gained across competencies. These projects enrich students' own learning in the program, as well as their career journeys. They also directly affect those students' companies, as most implement their projects where they're employed.
Putting their learning into practice, under the guidance and frameworks provided by industry experts and educators, helps solidify the skills they've developed. By implementing such a project, they learn to apply process improvements, make data-driven decisions, conduct research and develop their project management skills.
We caught up with two graduates of the MID program to learn more about the values of a hands-on project as part of acquiring an advanced degree, particularly one so industry-specific and comprehensive.
Future Preparedness for Today's Challenges
Weston Yaw, president of Automated Dynamics, Corp., completed his Capstone Project in 2017 as part of preparing to take on the family business as president. His company is a manufacturer rep firm for four premier lines within the factory and process automation industry. They specialize in sensors, industrial networks and interface products used in integration and data gathering. They have a seven-state territory and 25 employees.
For Yaw, being in the MID program was a significant part of his professional development, and having the degree gave him credibility as he evolved into the role of president. For his Capstone Project, he focused on "Preventing the Death of the Automation Distributor." Distributors were changing, and M&A activity was increasing. He wanted to explore what was causing the atrophy of this type of distributor.
"It involved analyzing the headwinds for niche distributors that support the automation industry; what has stagnated reinvestment during a sustained period of strong market growth," Yaw said of his Capstone. "That's whether potential causes are customer buying habits such as e-commerce and integrated supply, commoditization of high-tech components, or general margin reduction in the industry. "
Though he developed and wrote his Capstone five years ago, he found that, in many ways, it prepared him to manage the turbulence of the past couple of years.
"In doing the Capstone, I learned a lot more about distributor operations and ERP systems," he said. "That's helped me have empathy for them during this time and understand what's realistic. As we're trying to figure out how to manage the supply chain crisis, it's helped that, in the back of my mind, I know how this would affect our distributors."
Having that grasp of distributor finances and operations also helps Yaw when assessing the company's distribution saturation within certain markets.
"It's given me a lot more clarity," he said. "I can better identify the distributors that are doing the right things and reinvesting the way they should to promote growth."
In terms of personal development, Yaw says the program and Capstone helped him learn to take large problems and break them down in to small, incremental and accomplishable tasks. He learned to come up with a workflow, timed out and in stages.
"That's something I still apply to problems at work. It gave a strong focal point for everything you were learning in your other classes," he said of the Capstone Project. "You're trying to pull everything you're learning into that paper. It gives you a practical use case for your courses."
Developing an Eagle Eye for Inefficiencies and Quick Solutions
Pierre Brown, now the director of operations for Dufresne Spencer Group LLC, used his Capstone Project to improve warehouse efficiency at his company by using the opportunity to implement barcoding technology. His company was dealing with constant inefficiencies in this area and, every year, Brown found he came up against the same struggles in managing and growing the warehouse.
"Inventory was a mess," he said. "The way transactions took place was a mess. There was no way for me to quantify what one person was doing versus another. I had developed standards for how long tasks should take, but there was no measurement to hold employees accountable."
In his career, he'd already seen the impact barcoding technology could have, and he recognized that it could eliminate half the warehousing issues at his company.
The company was also operating off an outdated ERP system that had almost zero support available, and they'd made the decision to move to a new ERP system, Oracle.
"As soon as I heard that decision, I was like, 'If we're going to do this, let's go all out,'" Brown said. "Let's do barcoding."
Brown pitched that the barcoding project would be a perfect process improvement opportunity for his Capstone Project. He put together a convincing proposal, got buy-in, and was able to implement the Capstone Project simultaneously with the ERP implementation. This made the process simpler and more coordinated.
Brown credits the MID program and Capstone Project with a series of notable personal developments, including that it helped him improve his time management and planning skills. He also appreciated that the program established and enforced the importance of critical thinking.
"That critical thinking piece helps you understand root cause analysis and develop 'how to make things work' type of mentality," Brown said. "That has really been key in shifting the way I think when it comes to problems and projects."
As an added benefit, Brown found that various aspects of the program encouraged him to find community and break out of his shell.
"By nature, I'm generally pretty quiet," he said. "Being forced to be in that position to speak to and learn from others, you almost have to break out of your shell because if you want to succeed, then you're going to have to interact with other students, your own cohort, to get that sense of camaraderie because you're all going to go through the same struggles together."
Become the Expert in Industrial Distribution
Knowledge and networking are priceless tools in today's industrial distribution market. If you are in this field already, putting yourself in a position to increase your knowledge and networking will only strengthen your skills and update your profile. For the industrial distribution world, no other program will prepare you more than a graduate degree that speaks directly to the industrial distribution world.
Kourtney Gruner is the Assistant Director of Student Services and Capstone Coordinator for the Master of Industrial Distribution program at Texas A&M University. Texas A&M's Master of Industrial Distribution (MID) is a 4-semester, part-time, mobile learning graduate program designed for working professionals. By incorporating both academic professors and industry leaders who co-teach each course, students not only learn theories, but applicable supply chain management, logistics, and profitability of distributors and manufacturers in industrial channels. Contact Mark Lorenzo at mark.lorenzo@tamu.edu for more information about the MID program.