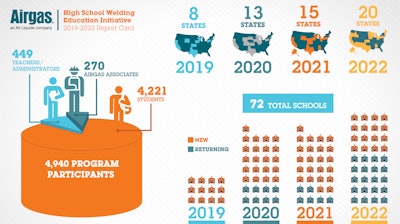 Airgas
RADNOR, Pa. — Airgas, an Air Liquide company, is pleased to announce that the company's High School Welding Education Initiative continues to expand and help students across the country prepare for a career in welding.
For the 2023 academic year, 14 returning schools and 41 new schools from 22 states have been selected to be part of the program.
These programs were chosen based on four key factors: high unmet need at the school; a productive welding program with the potential to graduate job-ready welders; passionate teachers; and enthusiastic local Airgas champions. Participating programs receive a customized mix of hands-on professional development training or continuing education for welding teachers in close collaboration with Airgas associates. In addition, Airgas donates welding consumables or equipment, safety PPE, and other resources to help support welding program growth within these schools.
The American Welding Society forecasts that 336,000 new welding professionals are projected to be needed by 2026, with 84,000 average welding jobs to be filled annually between 2022-2025. Since 2018, Airgas has assisted 72 schools, 4,200 welding students and nearly 450 instructors across the country. In the past two years combined, more than 250 students obtained welding jobs directly after graduating from a school program supported by Airgas donations.
This Airgas program has built long-term relationships between local educators and Airgas welding and safety experts. The Airgas High School Welding Education Initiative falls under the Airgas Citizen at Work program, which empowers all associates to engage in volunteer activities and give back to their communities. Through the high school welding program, as part of the larger Citizen at Work umbrella, Airgas associates have volunteered hundreds of hours in dozens of communities to collaborate with the instructors and students for each school.
As the High School Welding Education Initiative continues to grow, there has also been increased interest and support from all aspects of Airgas' business, including associates, customers, suppliers, government officials, and Air Liquide colleagues, who all have a shared interest in cultivating the next generation of welders to advance the industry in the years ahead.
"As we welcome a record number of schools into the High School Welding Education Initiative Class of 2023, we hope our continued and increasing contributions to welding education inspires students to fill their potential in a welding career, and supports welding educators and schools throughout the United States who are preparing graduates to enter welding, engineering and technical careers," said Airgas Chief Operating Officer Jay Worley. "This program's growth is possible because of our many passionate associates who are stepping up to share their expertise in the communities where they live and work, as well as our customers, colleagues and collaborators who continue to advocate for the importance of welding education."
Congratulations to the 2023 Participating Schools representing 22 states:
Anniston High School - Anniston, Alabama
Barbara Jordan Career Center - Houston, Texas
Beloit Memorial High School - Beloit, Wisconsin
Bettye Davis East Anchorage High School - Anchorage, Alaska
Buckeye Hills Career Center- Rio Grande, Ohio
Bucksport High School - Bucksport, Maine
Cherokee High School - Canton, Georgia
Clarion County Career Center - Clarion, Pennsylvania
Clearfield County Career & Technology - Clearfield, Pennsylvania
Cloudland High School - Elizabethton, Tennessee
Crescent City Junior Senior High School - Crescent City, Florida
Dulce High School - Dulce, New Mexico
Exeter Union High School - Exeter, California
Father Judge High School - Philadelphia, Pennsylvania
Felicity-Franklin High School - Felicity, Ohio
Galena Park High School - Galena Park, Texas
Genesee Career Institute - Flint, Michigan
Geneva Regional Tech Center - Geneva, Alabama
Gibson Southern High School - Fort Branch, Indiana
Hazel Park High School - Hazel Park, Michigan
Houston County Career Academy - Dothan, Alabama
Houston Junior Senior High School - Houston, Alaska
Interlachen Junior Senior High School - Interlachen, Florida
Jeff Tech - Reynoldsville, Pennsylvania
Joe Redington Senior Junior Senior High School - Wasilla, Alaska
Journeys Soaring Impact - Cincinnati, Ohio
King Kekaulike High School - Pukalani, Hawaii
Lake Arthur High School - Lake Arthur, New Mexico
Largo High School - Largo, Florida
Lima Senior High School - Lima, Ohio
Lyman High School - Longwood, Florida
Lyndon Institute - Lyndon Center, Vermont
Madison Park Technical Vocational School - Boston, Massachusetts
Merrillville High School - Merrillville, Indiana
Nathan Hale High School - West Allis, Wisconsin
New London Community School District - New London, Iowa
North Branch High School - North Branch, Minnesota
North Monterey County High School - Castroville, California
Olomana School - Waimanalo, Hawaii
Owatonna Public Schools - Owatonna, Minnesota
Page High School - Page, Arizona
Palatka Junior Senior High School - Palatka, Florida
Paso Robles High School - Paso Robles, California
Razdolna School - Razdolna, Alaska
Region Two School of Applied Technology - Houlton, Maine
Riverside High School - Painesville, Ohio
St. David High School - St. David, Arizona
Tampa Bay Tech - Tampa Bay, Florida
Tooele High School - Tooele, Utah
Ventura High School - Ventura, California
Veterans Resource Center - Dallas, Texas
Waipahu High School - Waipahu, Hawaii
Washington County Career & Technical Education Center - Abingdon, Virginia
Weld Like A Girl - Yuma, Arizona
White Mountain Regional High School - Whitefield, New Hampshire