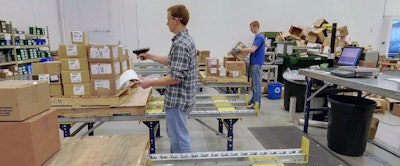 For those of the class of 2019, who are finishing college without yet landing a job, it can be daunting to choose a career path. Many of these new graduates, the first graduating class of Generation Z, have the skill sets needed to enter supply chain and logistics jobs, but they might not have ever considered this field or know enough about how to break in.
Here are a few steps you can take to help illustrate to new graduates the opportunities that abound in supply chain and logistics, allowing you to attract the newest members of the workforce to your business.
Sponsor Networking Events
Many young graduates may be pursuing local networking opportunities to get first-hand knowledge of different industries. Partner with young professional groups, local Chamber of Commerce or alumni networks to speak directly with young candidates and create relationships that may solidify their interest in your company.
According to the CSCMP's study on Young Professionals in Supply Chain, younger candidates are primarily drawn to the field due to the variety of opportunities and job types that the profession offers (20 percent of survey participants) and firsthand exposure through internships, jobs, and courses (19 percent). While you have the attention of potential candidates during in-person networking events, communicate the different kinds of career paths that are available in supply chain and logistics and speak to any kind of training or growth opportunities that your organization offers internally to employees looking to branch out into other areas of the business.
Have a Presence at University Career Fairs
Get a leg up on the competition for next year by having a presence at local universities' career fairs this fall semester. This not only increases visibility for your company and supply chain as an industry, but also provides students the opportunity to have their questions answered in real time and signals to them that supply chain companies are actively seeking out young talent, not just established professionals.
Many colleges may even host "shadowing" events where students may spend the day at a company shadowing an entry-level employee. This way, students get a clear picture of what a supply chain job entails as well as an understanding of your company culture and work environment.
In order to attract recent graduates to the supply chain and logistics industry, it is important to keep in mind what they value in a position both professionally and personally. Appeal to their modern skillsets while highlighting the perks of the industry. The interest in this rapidly growing and increasingly vital field is there, it is simply a matter of tailoring your approach.
Know Your Candidate
With unemployment hitting record lows, job seekers have multiple options in today's tight labor market – meaning it's more important than ever to offer the right benefits. Recent grads are most interested in culture and flexibility, and will be drawn to factors like collaborative work environments, team outings, opportunities to work remotely and flex time, to name a few. As an employer that is hiring, keep this in mind to avoid losing top talent to your competitors.
Communicate Areas of Growth and Financial Stability
Supply chain and logistics is a rapidly growing industry. According to the BLS, jobs in logistics are projected to maintain a steady seven percent growth between 2016 and 2026. Considering how competitive the job market can be, particularly for entry-level candidates, recent graduates may rest assured knowing their skills are valued and won't be overlooked due to tough competition. According to a survey conducted by APICS and Supply Chain Management Review, 44 percent of supply chain professionals polled have been in the industry for at least 20 years, a sign that the industry can provide recent graduates the job security and growth opportunities that they're looking for.
Supply chain also offers a high-paying salary that can provide financial stability for recent graduates learning to manage their own finances for the first time. Currently, the typical supply chain manager makes between $83,000 and $168,600 while the average logistics manager makes between $76,000 and $160,000 annually, according to the 2018 Ajilon Salary Guide. Research the average ranges of your local market and make sure to offer salaries that are competitive.
Refine Job Descriptions
Many millennials may have an incorrect perspective that supply chain is not modern or forward thinking, but this is not the case. Supply chain and distribution is vital to many of today's biggest and most modern companies, such as Amazon.
When writing job descriptions, be sure to provide background on what the position entails, highlighting the ways in which a candidate's digital skillset, such as their familiarity with digital tools such as Slack or their familiarity with emerging technologies such as AI, will be utilized and will impact the company as a whole. You may even consider refreshing job titles so that they catch a digitally-minded candidate's eye. By valuing millennials' innate tech abilities and highlighting the new digital landscape of supply chain, young candidates can feel that they have an important role to play in the industry.
Emphasize Importance of Soft Skills
In addition to leveraging Gen Z's digital know-how, make sure to emphasize the soft skills that are just as valuable in the industry. While it is always beneficial to have the desired technical skills in any industry you enter, don't let recent graduates who demonstrate potential shy away from pursuing a supply chain career due to a lack of experience. Highlight the soft skills that are essential to excelling in the field such as communication, problem-solving and flexibility to work in a fast-paced environment. As a hiring manager, showcase a willingness to train promising candidates who come from different educational backgrounds but have the right soft skills.
Tisha Danehl, vice president of Ajilon, a national professional staffing firm serving the supply chain and logistics industries.