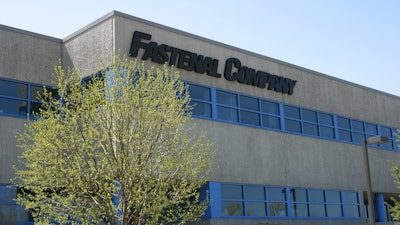 Fastenal
Fastenal reported yet another monthly sales increase during which sales to manufacturers offset a drop in non-residential construction.
That pattern has held in every month of 2023 so far, according to the Minnesota distributor's monthly sales disclosures.
Fastenal in August posted net sales of more than $668,000, up 3.6% from last August despite a 3.8% decline in fastener sales. Sales of safety products rose by 9.5%, and all other product categories were up by nearly 7%.
Fastenal also added more detail to its latest monthly report, including new "heavy manufacturing" and "reseller" end-markets and, among other customer and channel categories, one for "eProcurement." Heavy manufacturing sales were up 8.6% on a daily average basis, while other manufacturing sales rose by 1.3%. Reseller and non-residential construction slid by 7.3% and 6.2%, respectively. Fastenal said its growth metrics for e-procurement, meanwhile, were up by 41%.
The company said its workforce stood at nearly 22,800 as of the end of the month, up more than 4% from the same point in 2022.