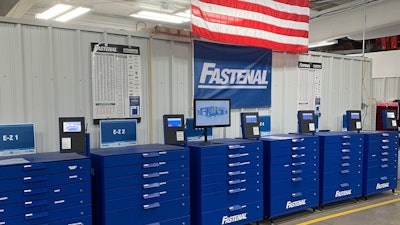 Fastenal
Fastenal on Friday said its sales climbed nearly 4% last month despite continued struggles in the construction sector and a decline in fastener sales.
The Minnesota distributor — no. 4 on ID's 2022 Big 50 — reported net sales of more than $573,000 during the month, up 3.7% from the more than $553,000 reported in July of 2022.
Sales to the company's manufacturing customers increased by just shy of 7%, which was enough to offset another drop in non-residential construction; those sales fell by 9.5% year-over-year.
The company's fastener sales fell by nearly 2% over that span, but safety equipment sales rose by more than 8%. Sales in all other categories were up by 6.6%.
Sales in the U.S. market increased by just over 3% in July, while those to neighboring Canada and Mexico were up by nearly double-digits. Sales to other foreign markets dropped by 4.5%.
Fastenal also disclosed that its overall workforce saw a slight decline in July compared to its June employee headcount. Year-over-year, however, its workforce of nearly 23,000 was still up 5%.