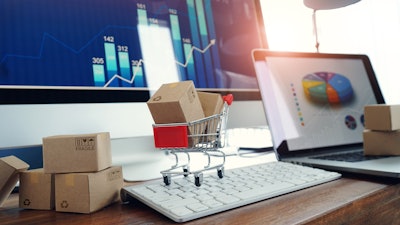 iStock
An article in a trade publication caught our eye when the writers suggested that manufacturers are missing an opportunity by not selling more products directly to customers.
The authors, Michael Connery and Jennifer Kozak of Groove Strategy Group LLC, a consulting/strategy firm that helps companies achieve profitable growth, noted that manufacturer B2B e-commerce sales represent only about 9% of total U.S. manufacturer sales, and asked why those numbers aren't higher.
In recent years, they wrote, manufacturers are increasingly going direct to their end customers with e-commerce. Digital Commerce 360, a market research firm, estimates that U.S. manufacturers' B2B e-commerce sales reached $543 billion in 2021 — and have been growing at a 16% annual rate since 2016 (almost 1.5x faster than total manufacturer sales).
"Why is this shift not happening even faster? The short answer is because of channel conflict with incumbent distributors and wholesalers who play a vital role in getting a manufacturer's products to end customers," they wrote in Industry Week. "Given a dependency on channel partners and the revenue at risk, many manufacturers are reluctant to change. But as end customers continue to demand 'Amazon-like' e-commerce, manufacturers must deal head-on with the channel conflict and are forced to rethink their go-to-market strategies."
Key Takeaways
It is true that many manufacturers sell direct or through a hybrid approach depending on customers and their individual needs. The article should re-emphasize the need for many distributors to upgrade their e-commerce sites to make it easier for customers to order. And it doesn't matter if you are a large publicly-traded distributor or a small to medium-sized one.
Fortunately, distributors – at least some of them – are improving their e-commerce capabilities by developing an omni-channel presence, allowing customers the opportunity to buy products in the format they choose. But a quick check of many distributor sites indicate a vast need for improvement. Many distributors don't update their websites and product offerings, nor are they committed to constantly improving their sites.
However, companies like Fastenal have done a tremendous job in getting e-commerce customers.
Six years ago, the company's e-commerce sales were $245 million, representing 5.5% of total company sales. After hitting the $1 billion milestone last October, Fastenal's e-commerce sales represent 17.4% of total company year-to-date sales (and 19.9% of its October 2022 sales).
"We don't often think of e-commerce as our primary go-to-market strategy, but it's become a vital part of our 'digital footprint' — the technology we provide to streamline and illuminate the supply chain," said Dan Florness, president and CEO of Fastenal, last fall.
In its latest earnings call with financial analysts, Fastenal said that 51% of its new hires were in the IT area, indicating the emphasis it is placing on technological improvements.
Other large distributors like Grainger and MSC continue to see strong growth in e-commerce .
McKinsey & Company, in a recent report, noted that Grainger has developed and continually added a range of services to its website and mobile app, such as access to previous orders, 24/7 customer service, and advanced search, as well as e-procurement and digital stock-fulfillment solutions. These digitally driven initiatives are now responsible for 75% of Grainger's revenue.
Likewise, MSC Industrial Supply says its e-commerce strategy is achieving outstanding results. CEO Erik Gershwind said the company's recent work focuses on improving the customer experience on its website by enhancing product discovery and enriching product data. This investment is producing early returns as e-commerce sales grew mid-teens in the first quarter.
An Open Opportunity
But e-commerce growth is not just for larger distributors, Bob DeStefano president of SVM E-Marketing Solutions recently pointed out in an article in ID.
"The big distribution e-commerce players may seem to dominate the market, but as a smaller distributor you have a significant advantage that the big players lack," he wrote. "Your smaller size provides you the ability to be nimbler and more flexible in your approach to e-commerce. This offers you the ability to respond quickly to better serve your customers."
Personalized service and customer care are key advantages as a smaller player. Due to their immense size, larger online distributors can't offer this level of service, he maintains.
Why is it so important to develop and maintain a successful online program? Based on its survey, McKinsey notes that customers expect to make 30% more of their purchases from distributors via online means.
A report from Amazon Business found that 91% of business buyers prefer to make purchases online and 47% of procurement managers expect to increase their procurement budgets in 2023.
Building strategic agility and flexibility into their supply chains is critical to becoming digital and supporting omnichannel and e-commerce business models.
Features those respondents want, among other things, include 24/7 customer service, a complete e-commerce website, order tracking and real-time inventory management.
Manufacturers have always had the opportunity to sell direct, and internet e-commerce capabilities have increased those possibilities. But as one manufacturing CEO told me a few years ago: he needs distributors, and distributors needs him, regardless of the internet.
"Our expertise is designing and building new products. Their expertise is finding customers that need our products. We don't want to compete with distributors. We want to be partners with them."
Jack Keough is president of Keough Business Communications and the former editor of Industrial Distribution. He can be reached at john.keough@comcast.net.