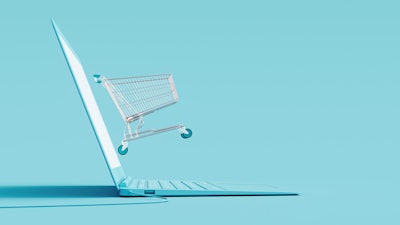 iStock
Emerging technology is changing the way jobs are done as well as where they are done from. Even prior to the pandemic emerging technology was changing the way we work. With this change, how can we show our sales teams how to utilize technology, specifically e-commerce platforms, for their benefit and not their competition?
Continuously adapting to emerging technology will prove to be an invaluable skill for sales teams as we move into the future. Employees should be willing to commit to lifelong learning to acquire the skills needed to succeed in the future, as new technologies are not going away. In doing so, they will be able to penetrate customers more deeply as technology reduces their workload and enables their customer communications. The sales team will require tools and a well-designed value proposition to develop information-driven services for both its customers and suppliers.
An e-commerce platform offers a no-cost research and ordering service while identifying growth opportunities, minimizing sales force burdens, enhancing customer experience and targeting new customers. The sales team can target competitors' market share by offering value-added service while accessing customers and untapped markets that were previously difficult to penetrate due to being geographically inconvenient and logistically challenged prior to the e-commerce site. An e-commerce site allows access to an expanded customer base with larger margins.
With billions of people using the internet, companies need to be thinking how to implement a digital-first sales plan. Going digital gives an advantage over the competition with most consumers being connected most of the day. Digital sales are the future of sales, knowing what converts and keeps customers coming to you for business whether in person or digitally is important to survive. Having a digital plan is vital to ensuring your customers continue doing business with you for years to come, especially with the younger generation climbing the ladder and wanting to stay connected digitally.
Today, it is almost mandatory for businesses to adopt technology to transform the way we work and keep up with the competition. When the pandemic hit in 2020, many distributors realized that selling online and creating an e-commerce site was going to be the way to move forward with sales. The importance of adopting these technologies is vital to the way products are sold and how we interact with customers. When adopting a new technology, it is important that everyone understands the benefits associated with it.
Humans are resistant to change and reluctant to adopt new ways of doing things, while fearing technology will replace their jobs. A barrier that can ensure the technology initiative fails is not having a strategic plan in place to address the corporate objectives. Having a digital sales plan does not mean the traditional sales force will be replaced instead it should be looked at as a tool they can utilize to increase sales, market share and customer lifetime value.
E-commerce should be looked at as another branch of the company. We wouldn't disregard or leave to their own devices a physical location, therefore we shouldn't disregard the e-commerce site. For it to be successful, everyone should nurture and accept this new tool as just that a tool for everyone to grow the company. While sales teams are reluctant to accept it as a benefit but more as the competition, it is hard to believe that every day they themselves are buying items online due to the ease and convenience that online shopping provides.
Retaining customers is vitally important to the success of any business, now more than ever. Keeping track of and measuring past customer behavior, whether online or in-store, can determine what motivated a customer to make a purchase or not. This is essential for knowing how to move forward in interacting with the customer and ensuring future sales. New ways of interacting with customers have to be adapted across traditional and digital methods.
Technology is a driving force behind customer-facing functions such as sales, marketing and services.
A key goal of B2B companies is to drive prospects to the website and convert this traffic into leads and hoping these leads transfer into loyal, long-lasting customers. Marketing teams invest significant amounts of time and energy to attract customers through a wide range of marketing channels. When websites, social media or email marketing generate a lead, marketing can transfer this lead to the sales team. It is then the responsibility of the sales team to begin the customer experience process. Customer experience is not a one-time project but a constant journey with an infinite ROI that continuously evolves with changing technology and customer habits.
Technology has changed the way business interacts with customers. With companies evolving from customer service to customer experience, customers are becoming more loyal to brands. Technology is a differentiator and gives companies that use it a competitive advantage over the competition.
How to Encourage/Train Sales Force to Embrace E-Commerce Technology
Reward them for driving customers to shop online
Develop a win-win way to get your outside sales reps to support your firm's e-commerce channel
Stick to the simpler deals online and save the rest for the offline world
Train your sales force on social selling and other tech-based communication approaches
Strike the right balance between human interaction and technology
Capitalize on the trust they've established with customers
Katina Yoakum is an e-commerce manager and marketing director at distributor Hose of South Texas in Corpus Christi, TX, which was featured in Industrial Distribution's 2022 Watch List. She is currently working on her Master's in Industrial Distribution at Texas A&M University with plans on graduating in May 2022. You can contact her at [email protected].