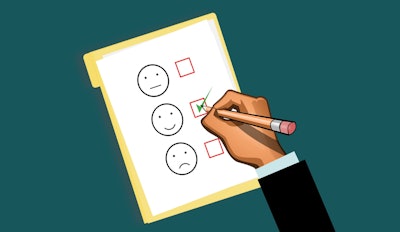 How to create great customer experience in an era of slowing growth is one of the top-of-mind concerns for senior executives and CEOs today. Customer experience is the customer's assessment of the total quality of interactions, ease of interactions, and ultimate decision to purchase, abandon, or repurchase the organization's offered goods and services throughout the entire buying cycle. A great customer experience leads to highly visible recommendations, brand preference, repurchase activity, and purchasing associated products. A bad customer experience has the exact reverse effects, recommendations to friends and family to look elsewhere, brand indifference, and customers actively seeking to engage competitors.
The greatest challenge of customer experience (CX) has always been to move from the "hugging" feel good phase of customer service into the data driven, initiative-based business model of delivering proactive delight and experiences to customers that produce a great experience for customers and great revenue for the business. Too many senior business leaders believe that customer experience is just mitigating or "going through the motions" to listen and minimally address customer complaints to garner a few "likes" or positive survey comments. Great CX delivers both optimal experience to customers and the growth, revenue, and loyalty to the business.
Rules Based Customer Segmentation Identifies Loyalty, Growth & Churn Categories
One of the greatest challenges and points of institutional friction is how to collectively identify and agree on the "best" customers for the business to focus. To help this conversation, look at all your customers by the number of years they have been a customer and the total number of different products, services, and brands they purchase from your company. Finally, create a scatter plot with this data for both active customers and lost customers. The upper right quadrant in the chart is the key focus area because this is where the customers with the most years and the most brands reside. The active customers in this quadrant are your key resource to interview as are the lost customers in the upper right quadrant. These customers are your key, stable, and most valuable customers. Determine the what, why, and needs for this vital segment to guide your CX initiatives. Listen to these customers closely.
Growth "Streams" Create Growth "Lakes"
Business growth initiatives too often believe that finding new customers is the best way to grow instead of helping your long-term customers to use more of your existing products and services. Instead of a "Blue Ocean" of new initiatives with new customers seek to find "Blue Streams" of products and services that you slowly introduce to help your current customers succeed. "Blue Streams" then grow into "Blue Lakes" of opportunity that creates value for both your existing customers and your organization. A key point of value is that retaining a new customer is difficult and requires extraordinary effort to do so correctly. Retaining an existing customer with an additional product is far easier because that customer is already convinced of your company value and expertise. Retaining and expanding your existing customer base is the best way to grow both revenue and customer satisfaction that deepens an existing customer relationship.
Better Enable Your Sales Force with Data Driven Insights, Prioritized Opportunity & Proactive Customer Response
Account Based Marketing (ABM) is an innovative field of Marketing Technology (MARTECH) that creates simultaneous value for customers and salespeople. ABM technology helps both Marketing & Sales determine a firm's interests, intentions, and product interests and where they are in the buying stage, from ready to purchase to information gathering. ABM then can recommend the best marketing material, from technical specifications to a webinar to a white paper, to answer the customer's expressed interests. This level of personalization creates both customer and salesperson victories. The customer received personalized material to their interests and the salesperson can prioritize their opportunities to meet with those that are prepared to purchase and allow the ABM technology to nurture the remainder of the prospects. ABM scales so you can address the entire customer base with personalized information, offers, and purchasing assistance that meet every customer individual needs.
Use the Data Available Today to Deliver Proactive Solutions to Customer Problems
The best advice for CEOs is to productively use the data they have today instead of wishing for data that is not present. Marketing and sales always want more data, more surveys, and better forecasts that do not necessarily lead to better customer outcomes. The customer experience data architecture needs to engage customers proactively to deliver information, solutions, business outcome metrics, short surveys, and product recommendations that deliver information to customers where they want it, when they want it, and in a manner that helps them operate their business or lifestyle more successfully. Businesses need to use their customer insight data to create better interactions for customers that then leads to better business outcomes. Using data to enable a better customer interaction creates a low effort, high value, and deeply personalized experience—the hallmark of a great CX interaction.
Great CX Produces Customer & Business Value Throughout the Entire Buying Cycle
Businesses love to sell to customers as much as customers love to buy. Customer experience values a customer's loyalty above the sale, so great CX needs to enable, build, and engage the customer's relationship throughout the buying cycle not just at the initial purchase. Following the purchase, businesses need to recommend supporting documentation, draw people into social media engagement on their experiences, attend quickly to customer problems, proactively find and fix product defects, and look for customer indicators proactively to determine if the customer seeks to repurchase or depart. Supporting the customer throughout the buying cycle is true CX because the relationships formed by a customer to a business when not in the immediate purchase process are some of the strongest bonds to a brand.
Great CX views its role as creating proactive customer insight, driving new product recommendations to customers, detecting potential customer churn before it happens, and enabling personalized activities toward customers wihin the communication modalities they prefer. This type of CX meets customer needs they may not have even voiced that they need, delivers a lower effort experience with higher personalization, interacts with customers according to their preferences, and uses on going data analysis with proactive offers from deep customers insights to anticipate customer needs with products and services. This is the type of CX that CEOs need to drive revenue, growth, loyalty to grow and to sustain their customer base.