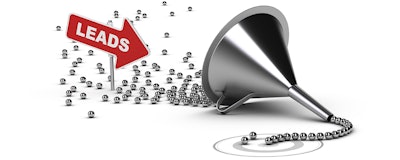 As a manufacturers rep or distributor, you work with dozens of different manufacturers — maybe as many as 500 — who send you sales leads in various formats on a daily basis. Some of those leads arrive via email, others in spreadsheets. Your manufacturing partners might even ask you to log-in to their CRM to retrieve their lead data. To make this lead sharing process even more cumbersome, the leads you receive may not be qualified — missing critical data such as work, email, phone or website information.
Does this hodgepodge of a system sound familiar? It's no wonder that nearly 70 percent of leads are never contacted. And an uncontacted lead is an opportunity lost. All told, the typical manufacturer-distributor lead sharing process is far more labor-intensive than it needs to be.
Imagine your sales staff spending more time nurturing leads and selling products, and less time trying to track down phone numbers and emails? For one, you'd be able to contact each opportunity quicker. And we know that faster speed to contact rates lead to higher conversion rates.
My company, LeadMethod, provides a lead management software platform built for companies that sell through a distributor network. What we're seeing is that the time it takes to reformat and qualify leads is overwhelming for distributors, especially considering the volume they may be dealing with. This messy lead sharing process prevents sales leads from being leveraged to their full advantage — whether due to slow contact time or low follow-up rates. It's a huge revenue inhibitor.
So how can distributors make sense of the lead sharing mess that manufacturers often dump on them? The answer is to develop a process and implement software that streamlines the entire lead management function. This enables your sales team to spend more time selling and less time following up on unqualified leads.
Here are four requirements of an effective and efficient lead management system for distributors:
1. Data collection. Streamlining data collection is one of the most time-intensive and inefficient steps of the process. It's a lot of work to organize the myriad leads coming from your manufacturing partners. Partnering with a professional services team that can collect all the data from your manufacturing partners and organize them into a consistent database format is a significant time- and money-saver.
2. Data append. Many of your incoming sales leads may be missing critical contact details as well as valuable market details, such as SIC code/description, company size, website, address, etc. With this information make sure it's quick and easy to access — your sales team will be armed with more customer knowledge, which leads to a higher win rate.
3. Qualify and score. Each lead should be ranked or scored to determine its priority level. That way, your sales staff can quickly determine the highest-value leads that should be contacted first.
4. Feedback. In your current system, can you quickly and easily share the status and/or quality of every sales lead in your funnel with its respective manufacturer? The ability to do so provides big-picture pipeline visibility and critical lead quality feedback so that both manufacturer and channel partner are working cohesively toward the same end.
By implementing a proven lead management platform, this whole process is simple. When you organize, qualify and score all your incoming leads in one streamlined platform, your sales staff spends more time closing deals and less time qualifying them.

Justin Johnson has more than 20 years' experience building software solutions for the manufacturing and distribution sector. He is an author and regular contributor to publications and thought leadership groups on the use of technology to improve profitability for manufacturers and their distributors. Currently, Johnson is co-founder and CEO of LeadMethod, a channel sales and lead management software company. He can be reached at [email protected] or (800) 406-5020.