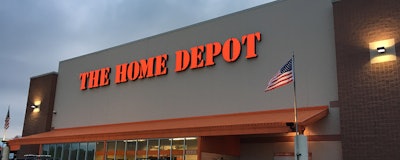 The Home Depot Foundation is announcing an increased commitment of a half billion dollars to veteran causes by 2025.
The expanded commitment to veterans comes as company volunteers, known as Team Depot, completed more than 100,000 volunteer hours during the Foundation's seven-week Celebration of Service campaign. As an added tribute to veterans, volunteer associates traded in the iconic Home Depot orange and wore military green at hundreds of projects during this year's campaign.
"The Home Depot Foundation has been supporting veteran causes since 2011 and recently completed its commitment to invest $250 million, but we're not stopping there," said Home Depot chairman, CEO and president Craig Menear. "We're committing another $250 million by 2025 bringing our total investment to half a billion."
Through partnerships with national and local nonprofits, the foundation completed its quarter billion- dollar commitment two years early, resulting in improvements to more than 40,000 veterans' homes and facilities since the original pledge was made. The organization will continue to work with nonprofits including Volunteers of America, Semper Fi Fund and Gary Sinise Foundation and many others, to end veteran homelessness, perform critical home repairs for senior veterans and serve critically wounded veterans.
"Giving back to our nation's heroes is a part of our DNA at The Home Depot," said Shannon Gerber, executive director at The Home Depot Foundation. "We're proud to partner with the best nonprofits in the nation to solve veteran issues and serve our servicemen and women who dedicated their lives to our country and sacrificed so much."
As the foundation wraps its eighth annual Celebration of Service campaign on Veterans Day weekend, the organization is inviting the community to wear military green and join together to serve veterans. The foundation is also recording and distributing personalized voicemails for veterans, which can be left by dialing (770) 615-8985. Visit a local Home Depot or www.ServeVeterans.com to learn about ways to participate.