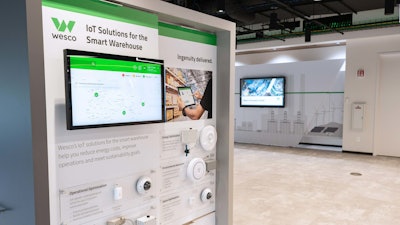 Wesco
PITTSBURGH — Wesco International on Wednesday announced an expanded portfolio of services designed to help customers, suppliers and partners navigate an increasingly dynamic global marketplace.
In a world fraught with supply chain challenges, technology convergence and sustainability demands, Wesco's newly expanded capabilities underscore the company's mission to build, connect, power and protect the world.
Complementing Wesco's existing products and services portfolio, the newly expanded capabilities include the formation of an "Innovation Partner Ecosystem"; the expansion of internet of things advisory services; and the opening of a new solutions innovation center in Glenview, Illinois.
"Wesco's innovative digital solutions are another synergy resulting from the transformational combination of Wesco and Anixter and represent a key milestone in achieving our vision of being the best tech-enabled supply chain solutions provider in the world," said Wesco Chairman, President and CEO John Engel. "Our expanded set of services will enable new markets and business opportunities for our suppliers and strategic partners. Our customers will benefit from our scale and global technical resources to deliver dynamic solutions that drive innovation and together, we will unlock value across our entire ecosystem."
Wesco will partner with our customers, installation partners and manufacturer community globally, to innovate and provide strategies that deliver meaningful return on investment. The newly formed Innovation Partner Ecosystem will work together to develop solutions to help customers achieve aggressive goals around electrification, automation and IoT, grid modernization, security, supply chain consolidation and digitalization. Comprising an impressive group of product and software companies, the consortium currently includes: APC, Arcules, Axis Communications, Belden, Bosch, Cisco Meraki, Commscope, Corning, Crestron, DMI, Eaton, Leviton Manufacturing and Panduit.
Wesco has also expanded its global IoT advisory services. As information technology (IT) and operations technology (OT) come together, customers across every sector are looking to gain real-time, data-driven insights into their businesses. Through a combination of IT and OT expertise, deployment support, installation enhancement services, broad portfolio of products and supply chain expertise, Wesco and its partners help integrators and end-user customers define a clear path to solving their most important operational challenges by harnessing IoT.
Customers can view these capabilities and experience the power they can bring firsthand at Wesco's Innovation Centers located around the world in the United States, Mexico, Brazil, England and India. In its newest center-of-excellence, located in Glenview; Wesco will develop, co-innovate and demonstrate technologies and connected solutions from strategic suppliers and its Innovation Partner Ecosystem.