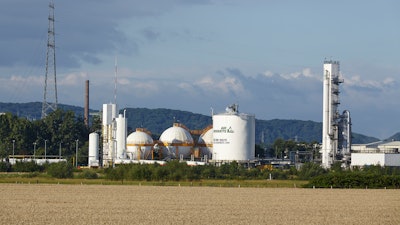 iStock
Air Products, a producer of hydrogen and a first-mover in energy transition projects, announced it was awarded several supply contracts from NASA totaling more than $130 million to provide liquid hydrogen for several NASA locations, including the Kennedy Space Center, Cape Canaveral Space Force Station and other NASA facilities.
Under one public contract, Air Products will supply NASA liquid hydrogen to support operations at the Kennedy Space Center and nearby Cape Canaveral Space Force Station. The multi-year contract, which is already in effect, includes a maximum value of approximately $75 million.
NASA also awarded Air Products a separate public contract, valued at a maximum value of over $57 million to supply liquid hydrogen to facilities across the agency, including NASA's Marshall Space Flight Center in Huntsville, Alabama, and the Stennis Space Center in Bay St. Louis, Mississippi.
NASA uses liquid hydrogen, combined with liquid oxygen, as fuel in cryogenic rocket engines, and hydrogen's unique properties support the development of aeronautics.
Air Products' working relationship with NASA began in 1957 with the commissioning of an industrial gas plant in Ohio and has since supplied NASA with liquid hydrogen and other industrial gases for advancing the U.S. Space Program. In addition to product supply to space launches, Air Products also has had a long-term relationship with NASA's engine testing program at Stennis Space Center, Johnson Space Center in Texas, as well as Marshall Space Flight Center.
Air Products works across all facets of the hydrogen value chain, including production, distribution, storage and dispensing and has been a pioneer in hydrogen fueling for decades. The company has announced a commitment to invest at least $15 billion for clean energy megaprojects around the world, including:
$4.5 billion clean energy complex in Louisiana
$1.6 billion (CAD) net-zero energy hydrogen energy complex in Edmonton, Alberta, Canada
Multi-billion dollar investment in NEOM, Saudi Arabia in conjunction with ACWA Power and NEOM, to build a world-scale green hydrogen production facility
Teaming with World Energy to build a new $2.5 billion major expansion project at World Energy's Sustainable Aviation Fuel production and distribution hub in Paramount, California
$500 million to build a green hydrogen production facility in New York that will produce 35 metric tons per day of liquid green hydrogen
Additionally, Air Products has announced projects, including a $4 billion joint venture with AES to build the largest green hydrogen production facility in the United States in Texas, and a green liquid hydrogen production facility in Arizona that will produce 10 metric tons of green hydrogen a day.
The company operates the world's longest hydrogen pipeline system in the U.S. Gulf Coast. Air Products has hands-on operating experience with over 250 hydrogen fueling station projects in 20 countries and the company's technologies are used in over 1.5 million fueling operations annually.