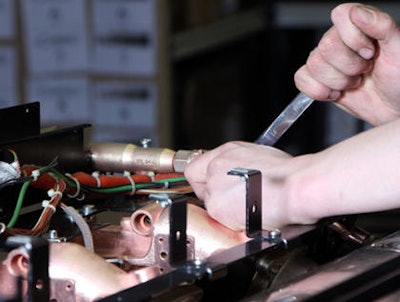 ATLANTA — New UPS research reveals that 78 percent of small- to mid-size industrial machinery companies believe their customers' expectations for after-sales service are rising, but just 12 percent of those manufacturers say replacement parts and service are top differentiators for their business.
The UPS research, conducted by IDC Manufacturing Insights, indicates that while manufacturers focus on developing and deploying new machinery, the buyers of industrial machines are increasingly seeking after-sales support to maintain the complex machinery for optimal productivity.
"Industrial machinery manufacturers are in a challenging situation," said Brian Littlefield, UPS director of industrial manufacturing and distribution. "Their pipeline depends on developing new products, yet over one-third say that 50 to 75 percent of their profitability comes from after-sales service. For many, enhancing service after the sale could be a way to differentiate from the competition and offer potential for revenue growth."
The UPS research found that 56 percent of industrial machinery manufacturers manage after-sales service in-house and have no plans to outsource those services. The remaining 44 percent of equipment manufacturers now use, or plan to use, a third-party service provider for long-term maintenance.
The results are based on a March 2015 survey of U.S.-based industrial machinery providers with a global customer base and between $10 million and $50 million in annual revenue. All survey participants said more than half of their business was in North America, with the near-remainder divided evenly between South America, Europe and Asia. A small percentage of business was located in the Middle East and Africa.
The UPS Industrial Machinery Manufacturing Insights executive summary can be downloaded at UPS.com/IndMfg.
UPS serves manufacturers and distributors of industrial products with comprehensive supply chain services that include end-to-end visibility, warehousing, inventory management, inspections, multi-modal global delivery, returns handling, e-commerce, and insurance and financial services.