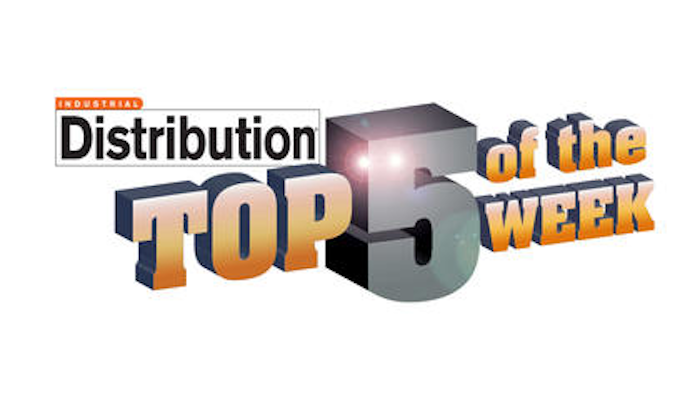 ​With an industrial market that's grown quite difficult this year, industrial distributors would be wise to seek best practice advice from good sources. ID was led by such advice columns this week, aimed to help businesses navigate these difficult times.
Here's this week's Top 5
​Kennametal To Sell Fabrication, Casting Businesses After Q1 Profit Loss: Latrobe, Pennsylvania-based Kennametal on Tuesday reported a year-over-year Q1 revenue decline of 20 percent on Tuesday including a 13-percent decrease in organic sales. The company posted a net loss of $6.2 million for Q1, whereas it had a $39.5 million profit last year. Kennametal's Q1 industrial segment sales were down 17 percent from last year, with organic sales down 8 percent. The company also announced Tuesday that it has agreed to sell off a a number of its non-core businesses related to certain castings, steel-plate fabrication, and deburring for an estimated $70 million in cash, which it will use to pay down debt. The businesses represent approximately $220 in annual revenue. The Pittsburgh Business Times reports that the buyer of those businesses is Chicago-based holding company Madison Industries.
​Halloween Is Here, Leaves Are Falling, And Boo — So Is Business: Like autumn leaves, sales and profits are down across the industry. Here, Chuck Kitchen provides suggestions and questions you should address to minimize the risks and improve your position.
The Case Against One-Size-Fits-All Pricing Strategies: ​Without better solutions at hand, many companies only have the one-size-fits-all price change, also known as the annual up or down price adjustment, at their disposal to manage volatile cost swings. What many companies don't realize is this approach offers limited success, and often does more harm than good. Pricing consultant Jim Vaughn discusses how making price changes without visibility into price sensitivity and customer buying patterns is akin to a race car driver racing in a blindfold. 
Keys For Setting Annual Planning Goals: Like with waiting until December 31 to make New Year's resolutions, most people handle their financial planning the same way. With most companies now in their financial fourth quarter, sales trainer Eric Lofholm discusses how to prepare a plan for financial success in the coming year.
Eaton Sales, Profit Sink In Q3: Global technology provider Eaton reported its 2015 Q3 financials on Oct. 30, posting considerable declines in sales and profit. The Dublin, Ireland-based company had Q3 revenue of $5.2 billion, down 9 percent from Q3 2014. Net earnings of $445 million were down 26.1 percent from last year's $602 million. Easton said the sales decline consisted of 6 percent from negative currency headwinds and 3 percent from a decline in organic sales.