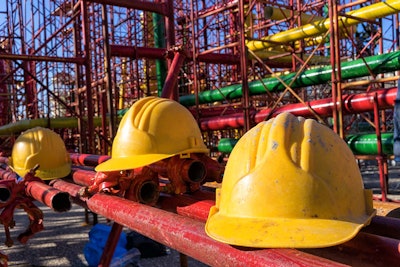 This article first appeared in the November/December print issue of Industrial Distribution. To view the full digital edition, click here.
When we examined the construction market in this issue last year, we focused on a sector whose growth was being hampered by a widening employment gap. As both residential and commercial construction starts increased, there were woefully few qualified workers to fill the gaps when it came to addressing the industry's needs.
Unfortunately, one year later, it appears this problem has only gotten worse. According to recent analysis by the Associated General Contractors of America (AGC), growth in the construction workforce has been slowing throughout 2015, just at the time that construction spending has accelerated to a multi-year high. "Contractors would love to hire more workers but there aren't enough qualified craft workers or supervisors available," said Ken Simonson, the association's chief economist.
Free Whitepaper: Industrial Wipers - How They Impact Product Quality, Productivity, Worker Health & the Environment
The number of unemployed jobseekers in September who last worked in construction totaled 479,000, the lowest figure for September since 2000. The unemployment rate for such workers was 5.5 percent, the lowest September number since 2001. Meanwhile, Census Bureau data released on October 1 showed that the growth in construction spending accelerated to a nine-year high of 13.7 percent in the latest 12 months – August 2014 to August 2015 – from a 2.7 percent rate a year earlier.
In a recent press release for AGC, Simonson pointed to a survey the association released in September that found 86 percent of construction fi rms reported difficulty filling hourly craft or salaried positions. In particular, 73 percent of fi rms that employ carpenters reporting trouble finding those workers. Across all 21 crafts covered by the survey, at least one-quarter of respondents reported difficulty filling each craft. Among salaried positions, 55 percent reported difficulty finding supervisors or project managers.
Association officials called on federal, state and local officials to act on measures included in the association's Workforce Development Plan such as increased funding for career and technical education and an end to restrictions on cooperative training programs to rebuild the pipeline for recruiting and preparing future construction professionals, said the release.
FMI Corporation's Q3 analysis also warns of a productivity risk as activity in the industry continues to ramp up. In its recent report, FMI predicts a growth rate of 6 percent in construction activities through the end of the year, and 7 percent growth in 2016 – reaching $1.09 trillion in 2016, the highest total since 2008, unadjusted for inflation. That said, Chris Daum, President and Senior Managing Director of FMI Capital Advisors, Inc., cautioned that "Improvements in productivity will be critical for achieving growth and sustaining margins in the years ahead. We expect to see the use of new technologies and services expand, especially in highly competitive markets or where it has been difficult to find skilled workers."
The Q3 FMI Construction Outlook forecasts growth for 17 sectors, across residential, non-residential and non-building groups. Manufacturing continues to be the fastest-growing construction sector this year at 18 percent. With an expected 8 percent drop this year, power construction is one sector that has cooled down in 2015. The power industry is in flux due to changing fuel supplies as well as variable rates of growth in alternative energy sources such as solar and wind.