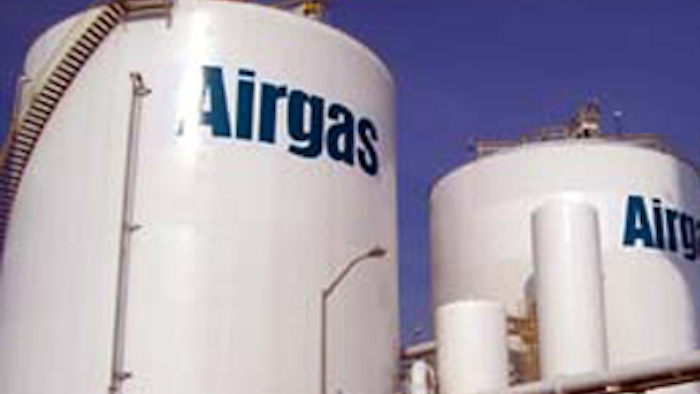 Industrial and specialty gas supplier Airgas, No. 8 on Industrial Distribution's 2014 Big 50 List, held its 2014 Analyst Meeting in Philadelphia, where the company shared some impressive financial goals through fiscal 2018 — and how it's going to achieve them.
Airgas' meeting was highlighted by CFO Robert McLaughlin stating the company is aiming for 2018 sales of $6.8 billion, increasing operation margin to at least 15 percent, and increasing return on capital to at least 16 percent.
The $6.8 billion sales figure would be a 30.8 percent increase from Airgas' 2014 year-end sales of $5.2 billion in the 12-month period ended Sept. 30. The company's 2014 year-end operating margin was 12.3 percent, and return on capital was 12.1 percent.
"During the past several years, we have continued to invest to position Airgas to capitalize on what we expect will be favorable long-term trends in key U.S. end markets, including manufacturing, energy, chemicals, and non-residential construction," Airgas Executive Chairman Peter McCausland said. "With a lot of heavy lifting behind us and the favorable long-term outlook for the U.S. industrial economy, Airgas is in a great position to deliver strong results."
In its analysts meeting presentation, Airgas leaned heavily on the performance of its new telesales channel — Airgas Total Access (ATA) — catered for transactional customers purchasing gases, welding, and safety.
The company is currently analyzing an estimated 70,000 additional core industrial Airgas customers for migration to the ATA channel. It has an additional 80,000+ medical and retail customers for which initial ATA pilots are demonstrating similar growth as core industrial customers. The company plans to hire and train 50+ new Airgas Total Access sales reps per year for the foreseeable future, and all ATA reps will be aligned by division/region/district as appropriate by the beginning of fiscal year 2016.
"Customers in this market space rarely have field sales reps calling on their business, thus the Airgas Total Access channel is a higher proactive "touch" option than calling a distributor's branch," Airgas said in its presentation.
Airgas said ATA total revenue is currently at $500+ million, ATA sales growth is at twice the rate of customers not in the program, and that ATA is opening an average of 12,000 new accounts per year.
Airgas also plans to have sales driven by an entirely new eMarkets platform launched in October. Connected through Airgas.com, the company expects eMarkets to yield 50 percent of all business revenue and transactions going forward. The manufacturing and metal fabrication segment is approaching 150,000 SKUs. With that, the company emphasized the importance its digital marketing, saying it is becoming Airgas' primary marketing channel.
In terms of physical expansion, Airgas said it plans to open 1-2 new plants per year on average. It reaffirmed plans for three new air separation units — Minooka, IL, Bozrah, CT, and Calvert City, KY. The Minooka project is expected to replace product from the company's older, less efficient plant in Waukesha, WI. The Bozrah project is largely an expansion of an existing ASU there.
To achieve its 2018 year-end sales goal of $6.8 billion from 2014's $5.2 billion, Airgas has set goals of compound annual growth rates of 7 percent organically and 1.5 percent from acquired sales.
After strong net sales growth percentages of 9.7 and 11.6 percent in 2011 and 2012, respectively, Airgas' numbers dropped significantly in the past two years to 4.4 and 2.3 in 2013 and 2014 (for years ended March 31). But with its recent innovations, the company expects those numbers to climb once again.
"With the rollout of Airgas Total Access complete and our robust new eBusiness platform recently launched, our unrivaled, multi-channel sales platform is now fully built, and cross-channel collaboration is increasing rapidly," Airgas President and Chief Executive Officer Michael L. Molinini said. "In addition, we're creating capacity in our fixed cost structure through organizational, operational and sales initiatives designed to drive higher incremental margins on future sales growth."