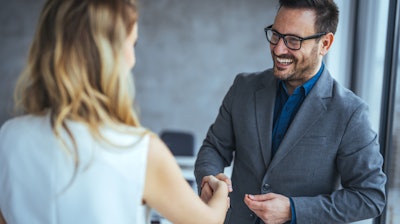 iStock
Do you want the benefit of ever-improving distribution sales performance? The benefits are available to any distributor and supplier willing to follow a simple set of guidelines.
Constantly Measure Performance
Suppliers and distributors often track various metrics such as sales, sales growth, market share, gross profit margin, and competitors' sales performance to improve business performance. Both partners must share and understand these criteria to ensure a healthy relationship. Graphs that illustrate this data can provide a clearer picture than words alone. By comparing data from multiple relationships, suppliers and distributors can rank their sales partners based on performance and allocate resources accordingly. Investing greater resources in top-performing partners and replacing underperforming ones with better alternatives is wise. Improving business metrics is achievable through careful measurement and analysis.
Continuously Apply Resources
Distributors and suppliers typically have access to valuable resources that can be used to support each other. However, tapping into these resources can be difficult during market instability. The most successful suppliers and distributors consistently leverage their help irrespective of market conditions. Utilizing resources during unfavorable market conditions can provide a competitive advantage and set companies apart.
5-point Management Meeting Agenda
It is essential to consider each partner's preferred method of exchanging information during supplier and distributor meetings, which can occur monthly, quarterly, or annually. As a manufacturer and distributor, I've found the following format highly effective in distribution management meetings. Here are the guidelines for the management meetings between suppliers and distributors:
1. We will present our progress since our last meeting to keep you updated.
2. We want to emphasize the significance of your sales for us and why we value them.
3. Let us know what actions you want us to take in the next few months.
4. We will share our expectations from you for the upcoming months.
5. We will discuss our plans and elaborate on what we intend to do for you in the coming months.
The five-point program is a straightforward and easily comprehensible approach. It emphasizes the importance of a person-to-person relationship in distribution, rather than a distant company-to-company interaction. To strengthen these five points, include charts and graphs that support the quantitative data. However, remember that the five points should remain the focus of your review, and the data should only serve to support them. In the past, I found that this process is much more effective than exchanging stacks of data during a PowerPoint presentation. You can set yourself apart from other distribution partners by consistently implementing the five-point plan. Most importantly, this personalized program allows partners to showcase their likability and trustworthiness.
Strive to Become the Emotionally Favored Distributor or Supplier
Building solid relationships with distributors and suppliers requires an emotional connection. Whether the partnership is exclusive or non-exclusive, they aim to become their preferred business partner by surpassing their expectations and showing that they are a top priority. By expressing gratitude and acknowledging their contributions, you can create a long-lasting emotional bond that benefits everyone involved.
If you're a distributor or manufacturer, it's crucial to establish a strong emotional connection with your distribution partner. This mutually advantageous relationship can improve sales performance, profit margins, customer satisfaction, and loyalty. Though fortifying this partnership may take some work, the benefits are well worth it. Ultimately, being your partner's preferred emotional choice can pave the way for a thriving and prosperous business relationship.
To ensure a robust and emotionally balanced connection with your business partner, conclude your quarterly or annual review with a shared meal, whether lunch or dinner. This less formal evaluation component permits junior and senior members to communicate their sentiments, thus promoting stronger business relationships. It also provides an opportunity for informal knowledge exchange, which can be valuable in training junior team members.
Unique Presentations and Rewards Leave a Lasting Impression
If you want to succeed in your distribution partnership, setting your company apart from the competition is essential. Your presentation should be exceptional and go beyond the standard. You can improve it by adding extra resources or hosting it in a more exciting venue. The most impressive presentations are the ones where presenters show creativity and confidence. So, make sure to stand out and leave a memorable impression.
If you want to excel in your industry, try implementing techniques in your production that surpass what your rivals usually offer. Don't worry if your team lacks creative brilliance. The most noteworthy and groundbreaking presentations come from meticulous planning and a solid drive to give your audience something unique. It's standard for suppliers to provide promotions and incentives, but it can be vexing when they all appear indistinguishable from the competition. Offering branded shirts or paperweights alone won't inspire sales partners. To make an impact, promotions and incentives should set suppliers apart from their competitors.
Conclusion
Ensure you track the essential metrics for your company and distribution partners. Plan meetings with your partners and follow the five-point agenda to differentiate your company and build solid emotional connections. Once you have established these relationships, it may be beneficial to consider replacing any underperforming partners today with those you now consider your competition.
About the Author
Glen Balzer is a management and forensic consultant involved with marketing and sales. He advises parties involved with relationships and contracts between industrial distributors, suppliers, customers, and manufacturers' representatives. He promotes conflict resolution between parties involved in distribution and representative agreements. For over 30 years, he has established and managed marketing and sales organizations throughout America, Europe, and Asia. Contact him at https://neweraconsulting.com.