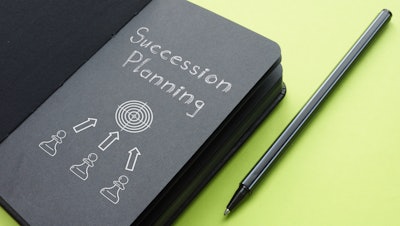 iStock
Some time ago, I wrote an article on a family-owned distributor in the Northeast. The vice president, who was also the son of the owner, became a friend of mine over the years. One day, I asked him if he was going to become president when his father retired.
"I honestly don't know. He hasn't discussed it with me and doesn't really want to talk about any succession plan, if there is one," he told me. Four months later, on a Friday afternoon, the father called his son into the office and told him he was retiring that day. His son would take over the following Monday.
The new CEO had little knowledge of the entire business since he had only been involved in sales, not really knowing other aspects of the operation.
I thought this was an exception to the rule, but then I visited a family-owned hose distributor in New York. The owner was 95 years old and still ran the business with an iron hand. His son, who was 66, later told me about his dad not having a succession plan and refusing to discuss it with him. Ironically, the son, who hadn't taken a vacation in many years, was considering retirement, but was worried that if he left, the business it could be closed.
A Troubling Taboo
For some reason, succession planning is a subject many distributor owners or executives don't like to talk about. Some assume they'll always be around and want to keep their businesses close to the vest.
Distribution is not alone in its failure to plan, and it's a major mistake for family-owned businesses, in particular. Why? In the case of family-owned businesses, only 30% survive into the second generation, 12% survive into the third, and only about 3% operate into the fourth generation and beyond.
A survey by the Society of Human Resource Managers (SHRM) showed that only 21% of HR professionals said their organization had a formal succession plan in place, and a further 24% had an informal plan. Some business leaders are too caught up in the challenges of the present; because these owners are so busy with the everyday problems of running a business, succession planning is not considered a major focus.
Meanwhile, studies show that each year, about 10% to 15% of corporations need to appoint a new CEO because of retirement, deaths or resignation.
The search firm Heidrick & Struggles and the Rock Center for Corporate Governance at Stanford University revealed that only 54% of boards were grooming a specific successor, and 39% had no viable internal candidates who could immediately replace the CEO if the need arose.
In 2020, 29% of S&P 500 companies that replaced their CEOs hired an outsider, up from 21% in 2019. Going forward, boards may need to place even more emphasis on appointing leaders with M&A transactions and merger integration experience, digital transformation expertise, and greater familiarity with leading a flexible workforce, according to business advisory and consulting firm PwC.
The importance of succession planning cannot be overemphasized. When a senior executive leaves a company, it causes ripples, discomfort and uncertainty throughout the entire workplace. Succession planning's main objective is to ensure a smooth transition between people leaving roles and top talent entering them. This should aim to prevent essential work slipping, other employees being overloaded, and a corresponding loss of knowledge if those employees leave.
If your intention is to transfer the business to a family member, delaying a formal succession plan can torpedo the transfer if you die without one, writes Tyler Lang, CFA, founder and CEO of Journey Advisory Group. In an article on Forbes.com, Lang points out the business then becomes part of your estate and is subject to estate and possible inheritance taxes. If the second generation doesn't have the funds to pay the taxes, the business may have to be liquidated to satisfy the IRS. Additionally, there have been reports of infighting among family employees after their parent died because no successor was named. It becomes not only a business problem, but an emotional one as well.
Taking the Next Step
So what are some tips in developing a succession plan? Experts say the first step is deciding if there is someone on staff that could be a candidate. Get input from other departments, examine past performance reports and determine the candidate's strengths and weaknesses. You should also determine if the candidate shares the company's vision for growth over the next five years.
If there is no one who can succeed you internally, how do you intend to find someone who can take the company to the next step? Do you need a search firm to help, or do you have trustworthy contacts in the industry who can recommend possible candidates?
Succession planning, whether for a CEO or another executive position, requires time and effort. It should not be overlooked.
Jack Keough is the president of Keough Business Communications and the former editor of Industrial Distribution. He can be reached at [email protected].