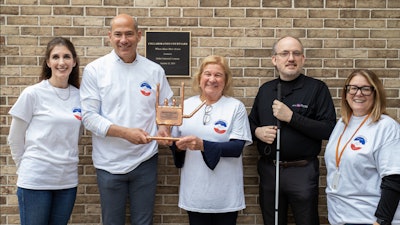 Global Industrial
PORT WASHINGTON, N.Y. -- Global Industrial Company, a value-added national distributor of industrial products and MRO supplies, and the Helen Keller National Center have partnered for an annual day of service.
The inaugural event took place on Wednesday and included facilities enhancements to the Helen Keller National Center headquarters in Port Washington, New York, and a ribbon-cutting ceremony to dedicate the new "Collaboration Courtyard - Where Ideas Meet Action," donated by Global Industrial.
The day's activities included teams of Global Industrial associates and residents and staff of the Helen Keller National Center joining together to make improvements to the front entrance, main courtyard, walking paths and guide dog run area. As part of these efforts, Global Industrial donated new park benches, picnic tables, umbrella stands and trash and pet waste receptacles that were assembled and installed by volunteers from both organizations. The assortment of products was curated for Helen Keller by Global Industrial specialists from among Global's wheelchair accessible and ADA-compliant products. Additionally, Global Industrial's first prototype of its newly developed Braille water bottle-filling station was unveiled and installed at the facility, the first of a line of Braille-engraved products that Global Industrial is developing.
"This was an incredible event that allowed us to partner with a world-class organization and have a meaningful impact in the local community," said Barry Litwin, CEO of Global Industrial Company. "Our goal is to understand the needs of enterprise - whether charitable, commercial or governmental - and help design and implement solutions that enable these organizations to succeed in their charted mission. I am gratified that we were able to identify workable solutions for Helen Keller National Center, to facilitate increased collaboration in their common outdoor spaces. I would like to thank everyone who contributed to the success of this day, and I look forward to this being the first of many opportunities that Global Industrial will have to make a positive impact on the communities we live in and serve."
"Having ADA-compliant seating represents a significant stride towards a more inclusive campus environment. These accommodations ensure that everyone, including individuals with mobility challenges, can actively participate in all our activities. We believe this initiative is a win for both participants and employees, underscoring our commitment to fostering accessibility and diversity on our campus. We truly thank Global Industrial for this amazing donation," said Sue Ruzenski, CEO of Helen Keller Services. "We share a common vision of collaboration with Global Industrial and are excited to build this local connection."
"Two great organizations came together and ideas truly met action at this day of service," said Adina Storch, general counsel and corporate secretary of Global Industrial Company and chairperson of the day of service. "We tried to reimagine the outdoor spaces to better facilitate collaboration among residents and staff and enhance the usability of Helen Keller's extraordinary campus. I am honored and privileged to have been part of this mission, and wish to thank my colleagues at Global Industrial and the leadership of Helen Keller for lending tireless support and helping give shape to this vision."
Supporting apparel and custom logo-branded merchandise for the day of service was produced by Spectrum Designs, a Port Washington-based social enterprise whose mission is to create inclusive employment and training opportunities for those on the autism spectrum. Spectrum Designs specializes in the design and manufacture of customized apparel and merchandise, and now has over 75 employees with locations in Long Island and Westchester. Their sister organization, Spectrum Suds, provides employment opportunities through a boutique laundry facility for local residents and businesses in Port Washington and the surrounding area.
Global Industrial's collaboration with the Helen Keller National Center and Spectrum Designs reflects the company's commitment to meaningful social engagement, and is part of its investment in environmental, social, and governance (ESG) stewardship.