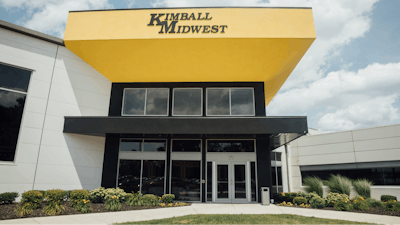 Kimball Midwest
On a pleasant spring Saturday near Dallas earlier this year, employees at Kimball Midwest's Texas distribution center descended on a nearby venue for the first of several events to celebrate a landmark year for the distributor.
What began as a door-to-door fastener sales outfit at the height of the Roaring '20s managed to survive and evolve over the following decades to make it to a 100th year in business as one of the leaders in its industry — and the latest generation to lead the family-owned company plans to celebrate accordingly.
The Arlington, Texas, event in late March was the first of five similar celebrations to be held across Kimball Midwest's U.S. distribution footprint. During each, employees will gather to mark the company's centennial and hand over checks to area charities — amounting to a total of $1 million throughout the year.
Associates at the North Texas facility selected Mission Arlington, which provides services and assistance, free of charge, to the Dallas suburb and the surrounding area.
"We really feel like this campaign allows all of our associates to feel proud of the investments that we're making in their communities, and with our customers and our associates living and working in them," says Meaghan McCurdy, the company's director of culture, diversity and inclusion. "Hopefully, that's a meaningful way of celebrating such a huge milestone."
Meeting Customers 'Where They Need Us'
Kimball Midwest traces its roots to the Kimball Company, which began selling industrial supplies – primarily fasteners – in 1923 in Cleveland, Ohio, by "walking up and down the street," as company President Patrick McCurdy III puts it.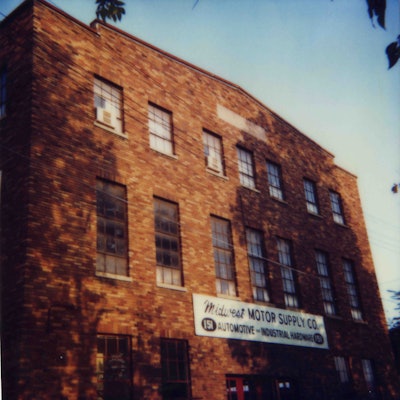 The company's current leadership, however, stems from Midwest Motor Supply, founded a decade later in Columbus, Ohio, to serve the region's burgeoning automotive sector. In the 1940s, following his return from World War II – and a subsequent, ill-fated stint in college – Pat McCurdy Sr. found success as a sales representative for Midwest.
Patrick McCurdy III said that as his grandfather increasingly excelled in sales, the ownership group at Midwest Motor asked if he would consider buying a stake in the company. In 1950, Pat Sr. became one of three company co-owners, and in 1978, he became the sole owner — at which point a second generation of McCurdys began to join what had become a family business.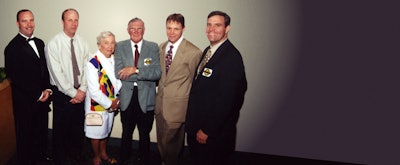 Six years later, Midwest and the Kimball Company merged into Columbus-based Kimball Midwest and began to grow into what would eventually be one of the nation's leading distributors. One year before the companies' 1984 merger, its annual sales amounted to roughly $1 million; by 2021, sales had grown to $350 million, enough to come in at no. 30 on Industrial Distribution's Big 50 list of North American distributors.
Last year, company officials said, its sales climbed to $400 million.
Although Kimball Midwest has acquired other distributors over that span, company officials – including Brian McCurdy, a division sales manager, and Brendan S. McCurdy, Kimball Midwest's marketing program manager – say most of that increase was generated by organic growth.
"Our model [for] growth is growth through our value-added sales team," Meaghan McCurdy says. "So I think it is all about the development of teams."
The company now provides more than 55,000 maintenance, repair and operations products, from abrasives and cutting tools to lighting and paint.
Its distribution network, meanwhile, now extends coast-to-coast following the addition of a fifth warehouse and logistics hub in Newtown, Connecticut, last year. The New England location joined branches in Columbus and Arlington, along with Reno, Nevada, and Savannah, Georgia.
Patrick McCurdy said that although specific decisions about where to expand can be "a little more art than science," meeting the demands of today's customers increasingly means providing next-day delivery and the capability to "be where they need us."
"We have a great team in our operations space, so that group understands the growth needed and the footprint required to support our customers and our business as we grow," Patrick McCurdy says.
A 'P2P' Company
Although the elder McCurdy's ownership of Kimball Midwest created a path for his children and, ultimately, grandchildren to become involved in the distribution sector, those now leading the company are quick to point out that his most important contribution was the establishment of its culture.
The company's public outreach tends to highlight its workforce and cultural initiatives just as frequently, if not more so, than its capital investments or robust sales achievements, from its rankings among the region's top companies to work for – and sell for – to its recognition as a leader in worker training.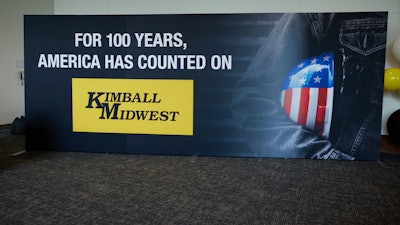 Kimball Midwest declares on its website that it is a "people to people" company rather than a "business to business" one, which Brendan McCurdy attributes directly to his grandfather, who "laid the foundation," and his children, who "not only clearly defined it, but lived it out, each and every day."
He said the company's growth can be directly tied to its people and the environment that they work in; Kimball Midwest's customers, he said, are "consumers of our culture."
"When we attract the best people, when they see our culture in action, we'll continue to deliver the most robust product offerings [and] programs to help our customers deliver on their goals," Brendan McCurdy says.
Company officials also suggested that its culture played a key role in addressing the challenges posed to distributors in recent years, both during the pandemic and in the uneven recovery afterward.
"Really, coming out of it, to us, is where we found a lot of lift," Brian McCurdy says. "What we found is that we really are an essential part to our customers' supply chain, and we really believed that, in that time, that we were part of keeping America moving."
Although the company isn't immune to either long-term challenges around workforce retention and technological change or to shorter-term worries about inflation and economic headwinds, effectively highlighting its culture and communicating openly across its approximately 2,400-associate workforce can help head off some of those problems.
"Ensuring that our associates know that we are living that culture will help us retain [the] superior associates and sales managers that we need to continue our growth," Meaghan McCurdy says.
The Next Hundred
Kimball Midwest's centennial celebration officially kicked off exactly one year to the day after a new generation of the McCurdy family stepped into executive leadership.
Although Patrick McCurdy Jr. remains the company's chief executive officer, day-to-day operations passed to Patrick III early last year when he was promoted from executive vice president of sales and marketing to company president.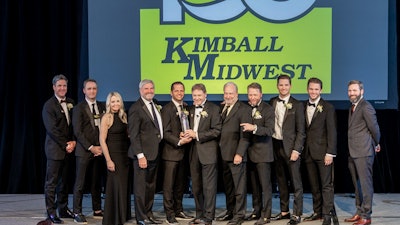 Not all members of Pat Sr.'s extended family went into the business – Brian noted that he's one of 11, and that only about half of his siblings work at Kimball Midwest – but among those that did, the weight of following in their predecessors' footsteps doesn't go unnoticed.
"I think everybody wants to do meaningful work; I just can't imagine anything more meaningful than honoring a family legacy and, at the same time, being a part of so many other people's lives," Meaghan McCurdy says. "I feel like we generally do feel a real sense of responsibility."
It also doesn't hurt, she said, that the family generally enjoys each other's company.
"We all hang out whether we're at work or we're not at work," she joked.
Patrick McCurdy III, meanwhile, suggested that the best is yet to come for the 100-year-old distributor.
"We're seeing improvements in things out there for demand, for products … for the support from associates and partnerships," he says.
"Everyone's learning how to lean on each other more effectively."