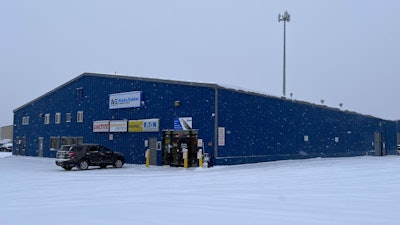 Alaska Rubber Group
"North to the Future"
Since 1967, the motto of the state of Alaska has intended to symbolize the region as a land of promise — an assertion that has certainly held true for Anchorage-based hose & fitting, lifting and rigging supplier Alaska Rubber Group (ARG).
Since 1980, ARG has grown from a one-location business in America's largest-by-far state to an operation thrust by acquisitive growth into Washington and Oregon, as well as providing greater coverage across Alaska for a total of 13 locations overall.
And while the pandemic caused many businesses to try to make the best of a bad situation, ARG saw it a different way. These big challenges, it seems, would be even bigger opportunities.
The Silver Tsunami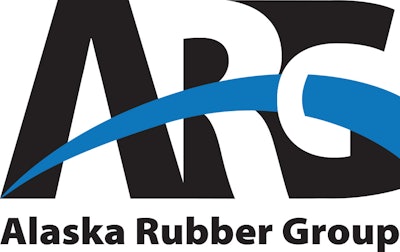 The onset of the pandemic sent a certain kind of business owner into introspective territory. According to Mike Mortensen, CEO and president of ARG, the ensuing chaotic path for industry caused some independent distributors to look for an exit strategy.
He described the phenomenon as 'the silver tsunami.' Owners nearing retirement are looking to take their equity off the table and get out of the market when it's hot — creating a unique opportunity for companies like ARG who live on the acquisition trail.
"I think the last couple years have been really tough," says Mortensen. "We've seen people who would otherwise have hung on for a few more years but have decided this might be the right time, and they're exiting."
ARG's most recent acquisition was the November of 2021 buy of Portland, OR-based Pacific Hose & Fittings Inc., an authorized distributor of Weatherhead Hydraulic Hose and Fittings, Boston Industrial Hose and Everflex Teflon Hose.
The founders of Pacific Hose & Fittings, Jeff Haagenson and Mark Lamberger, formed the company in 1999 with a focus on quality hydraulic and industrial hose distribution. ARG said that model will continue as both Haagenson and Lamberger will remain engaged in the success of the location as they lead their team to further growth. Mortensen says ARG has plans for more acquisitions and "there's not a lack of opportunity out there in the industrial distribution space, especially in our vertical."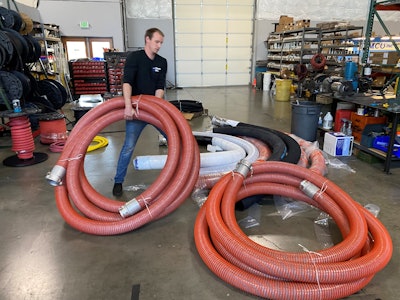 Digital Transformation: An Anchor in Uncertain Times
There are added pressures for small independents to divest, says Mortensen, and so much of that revolves around the need for digital transformation — a move to scale that's expensive and disruptive. When companies with mild or no digital presence face the impetus to adapt or die, many are choosing to hook their wagons to enterprises where the effort is already underway. For ARG, a massive investment and years of work have created a digital platform the company hopes will not only anchor its business in the modern world of e-commerce, but support its acquisition strategy.
"The omnichannel presence and 24/7 availability of information for our customers are really almost table stakes today in industrial distribution," says Mortensen. "Unfortunately, developing those platforms and those capabilities comes at a cost. It's not inexpensive right now to do that. And many of these smaller distribution companies just don't have the resources to scale into this new paradigm."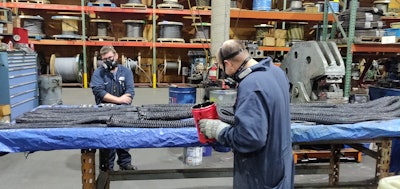 Of its 13 branches, ARG's "digital branch" has been most instrumental in the company's transformation of the past two years. For Mortensen, carving out a digital path was less about ROI and more about opportunity cost: if customers began shifting to other platforms for online transactions, would the company be able to recapture that lost business in the future?
It was clear to the team at ARG that the time to establish a robust online presence was now, and the related investment was tantamount to adding an entirely new location. "All the expenses for setting up a digital branch are there," says Mortensen. "You go out, you rent the building, you fill it full of people and inventory and equipment… you advertise it, you have your grand opening and you're constantly working it every day. I can't say enough how similar it is to setting up a branch."
Yet once it was underway, the added payback was immense: "The nice thing is the digital branch is a sales agent for every one of our physical branches," he elaborates. "Having that digital platform in place allows us to do so many things; it allows us to give our customers a different type of experience when engaging with the Alaska Rubber Group. It's less transactional now and more embedding ourselves within the customer."
Nurturing Talent Through ESOP
There are other ways ARG hopes to rise above the competition for potential acquisition targets and it comes down to the company's structure as an ESOP and employee-first mentality. Mortensen estimates that the amount of consolidation in this timeframe is eclipsing 30 percent in some verticals, and "typically, we're not the only suitor.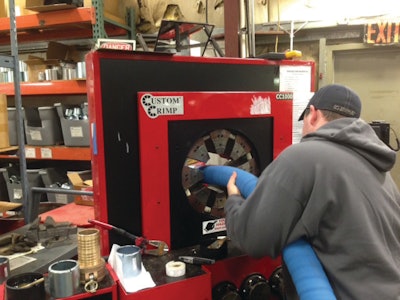 "There are many buyers on the market right now – everything from big-box to private equity," he explains. "But we offer a little bit different model, unlike some larger companies that may come in and completely restructure the acquisition and may not be as concerned about personnel and culture."
Mortensen took the helm last year as president and CEO amid unprecedented business challenges, but he wasn't without a foundation: he made his way up through the ranks after starting his career as a delivery driver, a promote-from-within path that ARG has tried to encourage company-wide by making selective hires with long term potential.
"I'm pretty passionate about preserving that model and giving the folks in our organization the ability to pursue that same path," says Mortensen.
And for those who choose to invest their talents within the company, the payoff is more than just upward mobility. As an ESOP, each employee is awarded stock ownership and the ability to influence the growth of their shares by their day-to-day activities. This can, in the end, amount to a sizable retirement account balance for a committed employee, and Mortensen sees the offering as a competitive advantage in both talent acquisition and retention.
"We go above-and-beyond to retain those folks, to educate them and to really help them understand that there's a career here for them. And if they choose to stay and put their blood, sweat and tears into the company, there's a stake for them in that," explains Mortensen. "And as we see folks in the company wake up to that understanding, leaders emerge from every level."
Approaching Challenges with Optimism
Despite the firm foundation from which ARG engages with the market, this time period still requires a nimble approach.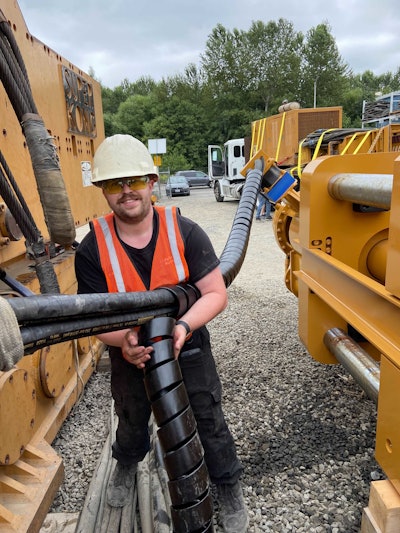 Forecasting has become an even more prevalent hurdle when supply chain challenges mean monthslong backlogs. "I have never seen a time in my career when we have more material on order with our vendors," says Mortensen, "and I've never seen lead times pushed out as far as they are." In Alaska, the pipeline is already delayed due to the remote location of ARG's branches, meaning the company was already stocking a significant amount of inventory. Now, Mortensen says they're about two weeks behind the rest of the supply chain, something the company counteracts by stocking unique products in large quantities. "In many cases, we stock more in our locations than the manufacturers themselves," he says.

Another issue facing the company is one that's a bit more familiar to independents across the nation: the challenge of effectively relaying a services-oriented value proposition in an online setting. As ARG looks to grow digital, it comes with the need to offer insight into a mix of products and services that includes not just off-the-shelf items, but custom fabrication as well.
"Converting that conversation and all the baked-in tribal knowledge and history into a digital platform is pretty difficult," says Mortensen, "but we are working with several software manufacturers, developing configuration software that will not only guide our customers through a journey that will allow them to specify products that they understand and know, but also some really cool technological tools to help them identify what it is that they actually need and specify those in a digital environment."
In the end, Mortensen believes the "rotating ball of challenges" facing ARG are both pandemic-related and not. "It's also a shift in industry and how people want product, where they want product and what they're expecting out of their distributors." And as ARG joins the industry-wide shift, having a company led by employee-owners will help navigate even the most rocky terrain as long as management places trust in them to do so. Says Mortensen, "Your frontline people know how to win. We need to give them the tools to win, so that they can implement new ideas that make us all more profitable and drive value towards the end result."