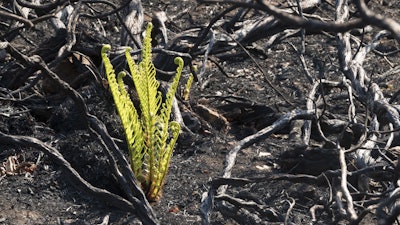 Growth Anew
When we conducted last year's Survey of Distributor Operations in late March 2020, COVID-19 had only been a pandemic for a few weeks, and its harsh effects on the global economy were only beginning to be felt. And with that, most of the survey's questions reflected business conditions as they were just before or very early in the crisis.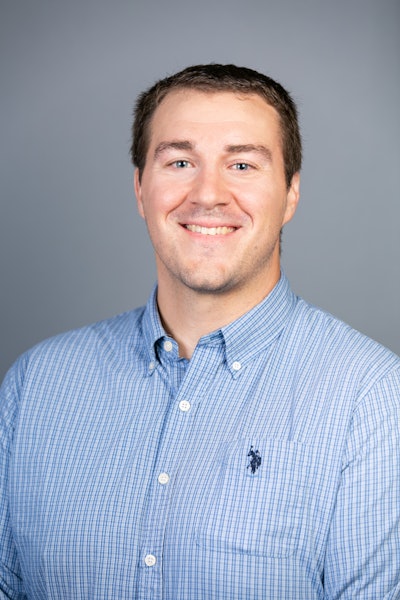 It's quite the opposite this time around. While the pandemic remains, our 74th iteration of the survey reflects a period where distributor respondents well into recovery mode rather than reactive. After more than a year of office staff largely working remotely and minimal face-to-face interaction with customers in an industry that relies so heavily on distributor-supplier relationships, distributors in certain verticals are seeing sales and profit figures return to figures resembling those from early 2020.
As always, Industrial Distribution's Survey of Distributor Operations aims to provide a snapshot of the industry and how distributors are faring across an array of operating areas. The coming pages will examine seven main categories:
Demographics — establishes a profile of survey respondents based on company size, years in business, sales volume and product line
Challenges, Trends & Economy — outlines the initiatives distributors are undertaking to address key business and market concerns, as well as mergers and acquisitions and how distributors view the impact of the economy
Tech Usage & Investments — covers areas like e-commerce and other big-impact technology solutions for now and the future
The Balance Sheet — offers insights into revenues and profitability, addressing areas of investment, concern and other analysis of factors impacting revenue
Best Practices — sheds light on distributor relationships with suppliers and customers, as well as their global business plans and what challenges are involved
Value of the Distributor — addresses the reasons our survey respondents believe customers do business with them, and which service offerings play a significant role in the industry
Employment — identifies hiring and layoff trends, recruitment and compensation
Here in Part 2, we'll cover the last three segments of our survey results, along with our respondents' submitted commentary for the survey's ending open-ended question. Check out Part 1 here.
NEW WEBINAR: Everything Wrong With the B2B Sales Model, and How to Fix It - June 15 at 1:00 CT. Register here!
Best Practices
Any relationship — be it a marriage or a business partnership — can be strained during times of crisis, and our survey indicates that the relationship between many distributors and their suppliers has worsened amid the pandemic. Whereas only 19 percent of last year's respondents said that relationship has become worse in the past year, that figure jumped to 38 percent in our 2021 survey. That comes despite a 33-point jump in the amount of respondents (52.5 percent) who said the level of support they receive from manufacturers-suppliers has become better in the past year. Eighty-six percent of this year's pool said their suppliers increased prices from the year before — right in line with the 89 percent who said so last year — so the relationship disconnect figures to be elsewhere.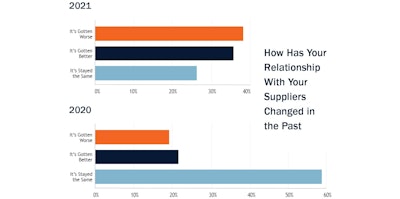 Asked which criteria they consider the most important when evaluating suppliers, 'quality' (59 percent) kept its top spot as it has for at least the past decade of our survey. 'On-time delivery' (50 percent) and 'reputation' (29 percent) were second and third. Bucking a 'race to the bottom' narrative in the industry, price was chosen by 25.5 percent of our pool as a top supplier criteria and fourth out of six options.
For those respondents who said their suppliers have raised prices, 'new product introductions' (37 percent), 'co-op advertising/marketing (34.5 percent) and 'reduced shipping fees/drop-shipping' were chosen as the top ways those suppliers have offered as ways to help reduce costs.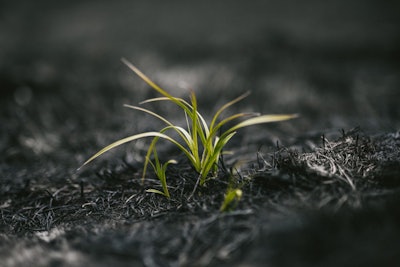 Write-in comments for this section shed some light on distributors' recent pain points:
"Sales personnel have used COVID to make excuses for not working. Some of the reps haven't been in our offices in over a year. It's really shined a light on the laziness of some of our reps."
"Less interaction with supplier reps."
"Some core vendors did not manage well during the pandemic and alternative sources stepped up to fill in the gaps."
"Harder to work with remote employees, long turnaround for communication."
"The epidemic has made things anxious."
Other notes from this section:
The portion of respondents who said their distributorship maintains industrial vending machines at customer locations jumped from 22 percent in 2020 to 64 percent this time around, which is likely either due to the considerably different demographic make-up of this year's respondent pool compared to recent years, or due to a fair amount of respondents being at the same company.
39 percent of this year's pool said their company is currently conducting business internationally, while another 39.5 percent said they intend to within the next three years
Value of the Distributor
Distributors know that their key value in the industrial supply chain is in services, always giving them a strong necessity trait that negates any notion of 'just a middle-man.' The most common services our respondents say their company offers for a fee include: 'shipping' (45 percent), 'setup/installation' (34 percent), 'design/engineering consulting' (32.5 percent), 'tech/product support' (24 percent), 'fabrication/kitting' (23 percent) and 'tool crib management' (23 percent).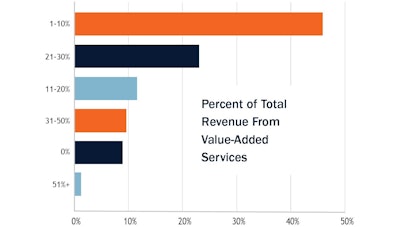 Most of these services and more are ones that manufacturers and e-commerce marketplaces can't directly offer, but distributors can, and they remain a key differentiator for distributors despite typically comprising a small portion of business revenue. More than 57 percent of our respondents said their company derives 1-20 percent of total revenue from value-added services — well in line with our surveys over the past five years — while 34 percent of our pool get at least 21 percent of revenue from those services.
Other notes from this section:
Nearly 83 percent of respondents said their distributorship is involved in vendor-managed inventory programs, way up from the 52 percent who said the same in 2020
More than 83 percent of respondents said their company was involved in either a co-op (50 percent), a buying group (25 percent) or both (9 percent). That's a major flip from 55 percent who said they weren't involved in either in our 2020 survey.
Employment
While 'finding more qualified people' was picked as one of our respondent pool's top concerns as noted earlier, it wasn't reflected when we directly asked if they are typically able to find suitable job applicants for their company. Nearly 86 percent answered in the affirmative, up from 63 percent in 2020.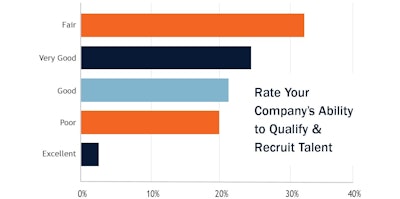 We asked our respondents to rate their ability to qualify and recruit on a scale of 1 (poor) to 5 (excellent), and this year's pool gave themselves a middle-of-the-road average of 2.58 — down from a favorable 2.91 in 2020. This year's most common rating was 'fair' (2), while 2020's was 'good' (3).
Distributors have found ways to downsize during the pandemic, and that, unfortunately, has often come with reducing headcounts. More than 23 percent of our respondents said they have reduced staff in the past 12 months, somewhat surprisingly up only about 3 percentage points from our 2020 survey. And more cuts may be coming, as 38 percent of our pool expects needing to reduce staff over the next 12 months. The most popular positions where our respondents said cuts were made were in warehouse (40 percent), sales (33 percent) and administration (20.5 percent). When staff has been added in the past year, our respondents said warehouse (36 percent), sales (35 percent) and customer support were the top three positions.

More than 39 percent of our pool said their number of sales reps has decreased in the past year, essentially equal to the amount who said they now have more sales reps. In 2020, only 14 percent of our respondents said their amount of sales reps declined.
Another unfortunate way distributors have often had to cut costs amid the pandemic is in employee benefits, which 70 percent of our respondents said they've done in the past year, up from just 14 percent who said so in our 2020 survey.
Perhaps evident of the modern trend of hiring based on culture fit over hiring based on experience, only 40 percent of this year's respondents rated hiring technically-trained employees as very important, down from 51 percent in 2020 and 59 percent in 2019. Moreover, nearly 18 percent of this year's pool rated it as 'not very/not at all important' — by far the highest percentage in survey history.
Those figures correlate to the 49 percent of our respondents who chose 'training' as a means their company uses to retain employees, up from 38 percent who said so in 2020. No matter the industry, it appears more and more businesses are looking for Millennial and Gen-Z candidates who fit their company culture and are willing to train them on the job after, rather than the other way around. Still, cash is still king, as 'higher pay/pay for performance' (52 percent) once again repeated atop the methods for retaining talent.
Sound Off
We always end our survey asking distributors to write in any additional issues they see impacting their business. Here's a collection of our respondents' anonymous write-in answers, with many stressing COVID-19 impacts:
"The chip shortage is really hurting our business as we deal with automotive manufacturers. The supply chain is the worst I have seen it in over 30 years."
"Relevant production resources are reduced, and it is difficult to export goods abroad."
"People have to be trained constantly and technology has to be updated in real-time."
"We need better technical personnel and sales personnel to expand the company, and we will improve the welfare benefits to guarantee the personnel.'
"Customers are paying slower and slower. Vendors want to be paid faster and faster. We are becoming a bank for our vendors and customers which is creating a lot of pressure on cash.'
"We have changed our business model; therefore, our current employees need to be more technically-trained. Moving forward the sales and engineers will be paired to provide a more comprehensive service offering to expand on the product sales that already exist and expand into new areas."
"This past year we have seen complete abandonment from our supply partner reps. As a distributor, we have been at work every single day of the covid lockdowns, yet we haven't seen a single rep. We have called for support and received nothing but excuses from the reps themselves. If there was ever a doubt as to which is more important, distributor reps, or manufacturer reps, this year has made the answer crystal clear!"
"I have big concerns about the economic picture and a potential recession on the horizon after we get done spending the government money in our inflated economy."
"Hiring technical reps. We give technical advice and no guarantee we get the order. Order volume is the same — value is off significantly."
Methodology
The results of this study are based on an email survey sent to Industrial Distribution subscribers in April 2021, with a collection time of three weeks. Recipients of the survey were offered an incentive to complete the questionnaire. The majority of ID's subscriber base is comprised of readers who identify as executive, upper management, sales or sales management. Results are based on our pool of survey respondents from within this subscriber base.
Comments on this year's results? Email ID managing editor Mike Hockett at [email protected].