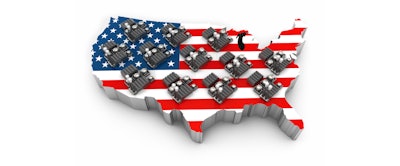 COLUMBUS, OH — Exact, a global provider of business software for small and medium-sized enterprises (SMEs), on Wednesday released new research reports on business and technology trends in the manufacturing and wholesale distribution industries. The reports detail the findings from an independent survey recently commissioned by Exact, which examined the impact of powerful forces like technology innovation, business process automation and the new administration's regulatory outlook on U.S. medium and large wholesale distributors and manufacturers.
The findings point to optimism from wholesale distribution respondents regarding the perceived impact of the new administration's plans for trade deregulation on their businesses — with 63 percent of these respondents anticipating that the plans will be beneficial to their businesses. Manufacturers are split, with 50 percent of respondents from this industry anticipating that the plans will be beneficial to their businesses. In response to publicly stated pending changes — such as border tariffs, revoking existing trade agreements and a focus on "buying American" — about one third of respondents from both industries have already increased investments in technology and hired more U.S.-based employees.
Additionally, the survey shows that emerging technology and IT innovations are significantly disrupting business models in the eyes of 72 percent of wholesale distributors and manufacturers. Notably, respondents are embracing the "fourth industrial revolution," already finding value in applying 3D printing, the Industrial Internet of Things, wearables, virtual reality and other tools to their operations. The research also proved that business process automation is a strong value and revenue driver for both wholesale distributors and manufacturers; respondents cited reduced costs, reduced errors, improved visibility and improved customer service as top benefits to automating core business processes.
"Thanks to pending regulatory changes and the extremely disruptive nature of emerging technology, the manufacturing and wholesale distribution industries are at the forefront of change," said Alison Forsythe, managing director of Exact, Macola division. "Within this climate, our research confirms technology's vital role in both shaping business models and driving tangible business value in the supply chain. Business process automation in particular is increasing revenues and delivering better business performance and customer service."
Key findings by industry include:
Manufacturing
Manufacturers who automate their core business processes with software — 77 percent of respondents — had stronger revenue gains on average in 2016 compared to those who do not automate
70 percent of respondents are currently using wearables (e.g., watches and glasses) in their operations, citing production efficiency, cost savings and worker safety as the areas positively affected by implementation
81 percent of respondents noted that automation has improved employee productivity
91 percent of manufacturers surveyed are currently using ERP systems and have found it extremely valuable across operations
Wholesale Distribution
92 percent of wholesale distributors either strongly agree or somewhat agree that Amazon is currently one of their biggest competitors
74 percent of respondents view the impact of Amazon as resulting in customers demanding faster delivery times for orders
58 percent of wholesale distributors are currently using connected machinery (Internet of Things), while 55 percent have made use of tablets with voice recognition to place orders
97 percent of wholesale distributors either strongly agree or somewhat agree that business process automation has allowed them to better service customers
Survey Methodology
As commissioned by Exact, Macola division, Berg research surveyed 409 respondents from medium and large U.S. wholesale distributors and manufacturers who make or influence IT decisions within their organizations.
Research Reports & Infographic
Both industry reports are now available for download here.