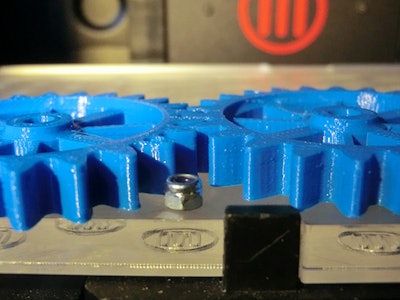 According to a new report by PwC, in conjunction with The Manufacturing Institute, 3D printing (also known as additive manufacturing) is showing signs of triggering transformations in U.S. manufacturing, from product design and production to restructured supply chains.
The report, "3D Printing and the New Shape of Industrial Manufacturing," which includes findings from a survey of over 100 industrial manufacturers, revealed that two-thirds (67 percent) of manufacturers surveyed are currently implementing 3D printing either by experimenting with the technology or by already using it for prototypes or final products. One in four respondents said they plan to adopt 3D printing in some way in the future.
"Applying 3D printing for rapid prototyping is nothing new for many manufacturers as it enables them and their suppliers to sidestep the often laborious and costly traditional processes," said Bob McCutcheon, PwC's U.S. industrial products leader. "However, we're starting to see signs that the technology is on the cusp of becoming mainstream, and companies need to understand the disruptions and the opportunities that it could create."
In fact, the survey showed that half of manufacturers feel that it is likely or very likely that 3D printing will be used mostly for low-volume, highly specialized product over the next three to five years, and is also opening the doors to the "lot of one" model, allowing companies to avoid producing products that are purchased seldomly.

Supply Chain Implications
But the implications for 3D printing are more than simply the benefits derived for prototyping in manufacturing and production of low volume products. Thirty percent of respondents to PwC's survey believe the greatest disruption to emerge from widespread adoption will be "restructured supply chains."
According to an April article by Josh Noble, Account Executive at TAKE Supply Chain – a provider of mobile supply chain software solutions – 3D printing offers an unprecedented opportunity for mid-market companies to increase flexibility, responsiveness, and cost savings, when the technology is inserted smartly and strategically into an existing supply chain. So where exactly does Noble see 3D printing fitting into the mix? Mainly as a short-term band-aid to address supply chain disruptions. For example, he explains, having a 3D printer on hand or available can provide a low cost and quick turn back-up plan when disruptions occur. "If vendors have short-term supply problems (broken machines, regional turmoil, shipping delays), 3D printers allow mid-market manufacturers to temporarily produce some components in-house."
As a supplemental function, 3D printing can also exist for limited-run components that perhaps don't justify the costs of a custom fabricator.

The Effects for Distribution
It's easy to get dizzy when you think about all the potential affects of this technology, especially those that could be detrimental to the traditional roles of distributor and customer.
For example, will customer access to ready-made components lead to a reduced need to source replacement parts? It's possible, but it's also important to remember that there are a lot of things your manufacturing customers already don't do because they're outside of their core competencies. It's likely that the same barriers that prohibit 3D printing from changing traditional manufacturing practices would also limit the changes to how they access MRO and replacement parts — namely, quality and cost.
According to the PwC report, almost half (47 percent) of the manufacturers surveyed identified the top barrier to implementing a 3D printing strategy is the uncertainty of a 3D printed product's quality, followed by lack of talent to exploit the technology (45 percent). "In addition," said the report, "manufacturers are wary about how well printed parts or components can perform, and whether they will gain certificate or approval for use by regulated bodies."
These are exactly the types of critical hang-ups that mean this technology is still struggling with the "easier said than done" hurdle. According to Chris Fox, managing editor of Product Design & Development magazine, "3D printing is great for prototyping for engineers, short runs, and highly specialized parts – like stuff for NASA and Hollywood – but this technology has a long way to go before it will threaten traditional manufacturing."
Fox adds that a CNC mill is still far more accurate than a 3D printer – "unless you're NASA, spending millions of dollars" – and injection molding can provide parts that cost fractions of a penny on the dollar to 3D printing. "The threat of 3D printing replacing traditional manufacturing practices is very real, but it is also very far off."
In short, the idea that customers will be able to quickly print a fastener on the fly is possible, but it may not be probable just yet. The risk associated with potential design and production flaws, along with the costs of materials and machinery means 3D printing, for most distributors, might be as big of a threat in the near term as a mill — which, by the way, was invented in 1956.
Says PwC's McCutcheon, "As organizations wade into 3D printing, either through implementing or at least through experimenting and/or assessing potential applications, the technology at present is still limited in the size, strength, and complexity of the products it can produce, even as it picks up steam as a powerful tool."