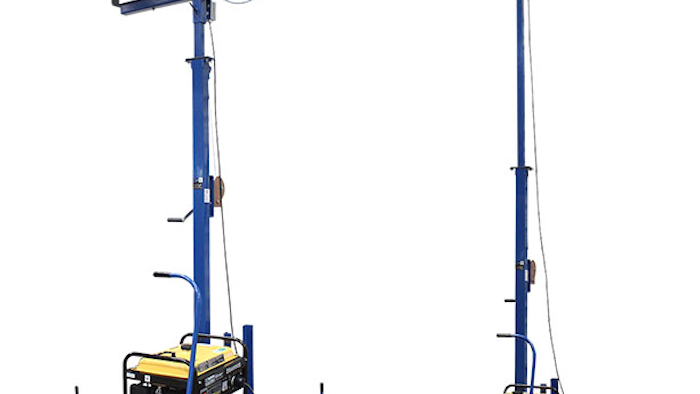 KEMP, TX — Larson Electronics has announced the release of a mini LED light tower.
The WAL-ML-2X400LTL-LED-3G mini LED light tower is an ideal solution for operators who need a fully portable yet easy to operate light system capable of illuminating large areas. Equipped with a heavy duty adjustable tower, a 3000 KVA generator, and two 400 watt high output LED lamps, this mini tower provides operators with an easily deployed lighting system that can provide illumination for up to ten hours on a single tank of gas.
This portable lighting system is designed for standalone operation and high mobility while providing enough output to illuminate approximately two acres of area effectively. The tower is constructed of heavy gauge steel for durability, and a tough powder coat finish provides protection against rust and corrosion.
In the lamps, 54 Bridgelux high output LEDs producing 1,000 lumens each are arranged in rows and paired with high purity optics to produce a well-focused 25 degree wide spot beam that is ideal for providing far reaching concentrated illumination while still covering a substantial amount of area. This adjustable and collapsible tower can be extended to 12 feet, collapsed to seven feet, and includes four wheels that allows the operator to simply roll the entire assembly to a new location when fully deployed.