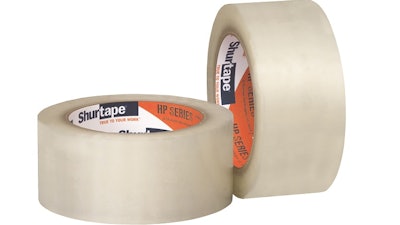 With the introduction of new HP 535 hot melt packaging tape, Shurtape Technologies, LLC (Hickory, NC) has fulfilled the industry's need for a more robust packaging tape that helps secure high-value packages, reduces the likelihood of open returns and supports supply chain sustainability. Shurtape brand HP 535 is a premium grade, heavy duty packaging tape specifically formulated for sealing recycled corrugated cartons, including 100% recycled corrugated cardboard. Specifically:
HP 535 hot melt packaging tape offers one of the most robust, secure box sealing tape solutions, reducing the chance of compromised packages and reducing open returns for manufacturers and distributors.
With a 3.0 mil total thickness and a 50 micron biaxially oriented polypropylene (BOPP) film backing that resists nicks and tears – even in the harshest shipping environments – HP 535 is a highly durable tape suited for rigorous supply chains.
Constructed with a special adhesive formula that offers better initial tack, higher holding power and a long-lasting seal, HP 535 provides a more secure seal for difficult-to-stick-to carton substrates.
The new HP 535 is the highest grade product in the Shurtape Hot Melt Specialty Packaging Tape family, which includes HP 132 and HP 232, which are designed specifically for cold temperature environments; and HP 235, a medium duty tape also designed for recycled corrugated cartons.
www.shurtape.com, 888-442-8273