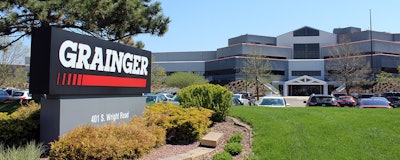 At some point, all of us have needed to contact the customer service department of a company over the phone or online, whether to troubleshoot a lawn mower, wearable fitness tracker, resolve an account error or something else. And while (hopefully) most of the time we end up conversing with an actual person on the other end, we often take for granted the role that person plays — especially at a large company.
This is why I felt fortunate to get a behind-the-scenes look at Grainger's Janesville, WI Contact Center in early May. There, I was able to see the MRO products distribution giant's four-story facility where tens of thousands of customer orders and questions are taken care of every day by a team of approximately 1,200 representatives. They field more than 27,000 customer interactions every day, whether by phone, email or online.
It's one thing to know there's someone on the other end of the customer service line taking care of you; it's another to see it happening all around you across an expansive office space.
"In the B2B space, it's a partnership — it's not just one call and you never talk to them again," says Shawn Mulligan, Grainger's Janesville contact center site director. "Our customers are letting us know what they need and want to run their businesses and keep their people safe, and what they need from us to do that."
Janesville is the largest of Grainger's contact centers — which used to number 150 before a consolidation into three national locations that started in 2017 and expected to complete this year. The company says the consolidation has already resulted in more effective and cost-efficient customer service.
The Janesville facility was built in 1988 and Grainger gradually moved in over the next two years before Grainger purchased Lab Safety Supply in 1992. Three years later, Grainger was growing so fast in Janesville that it had to double its distribution space there. About six years ago, that distribution center was the largest department of the Janesville operations, but it no longer exists, as Grainger has re-tooled its physical network over the years and e-commerce now comprises more than 60 percent of the company's total sales. That distribution space is now occupied by lawn and snow equipment supplier Ariens and Grainger subsidiary Imperial Supply, both of which also lease some business space at the Janesville facilities.
"When I started in this industry almost 30 years ago, everything was old phones," Mulligan says. "I've seen this evolution occur cross-industries. We've grown our e-commerce team accordingly, and we'll continue to grow it to meet what our customers tell us they need and want."
Above the Janesville contact center's lobby that resembles a hotel sits three floors of office/business space. Any pre-conceived notions I had of a large company's contact center being nothing but rows and rows of identical, monotonous cubicles were quickly put to rest as my tour progressed.
The second floor includes a team for Grainger's single-channel online U.S. business, Zoro, with the walls of its space adorned with mock movie posters featuring the Zoro fox mascot. That floor also has training rooms, break areas with tables and benches, massage room and relaxation room, while most of the third floor is comprised of a 24-hour fitness center.
Just off the elevators on the fourth floor is a coffee/breakfast shop, next to a pair of doors that lead into Grainger's 130,000 square feet of office space on that level. One of the office area's walls contains a photo breakdown of the call center's management structure, making it easy for employees to see the chain of command. The company recently installed dozens of TV monitors across the fourth floor, which display how many live customer interactions are happening in each product category, as well as how long the average customer has been waiting to talk to a Grainger representative. That wait is typically very brief, around the 30-second range.
Different wings of the fourth floor are designated for a specialty product group and technical product support, which provide customers with additional depth and breadth of knowledge as needed. Accounts payable has its own section as well, while the newest hires populate the "nest" — a training area where reps help customers with the assistance of seasoned reps nearby. All throughout the hundreds of desk spaces on the fourth floor and the business space on the other levels, employees are free to decorate their space with personal effects, and most do — some extravagantly. Many use past years' massive Grainger catalogs to support their desktop monitors.
Part of Mulligan's duties are to oversee the training process, which includes a class of about 18 new reps starting in a two-week formal training period, followed by two weeks in the nest, followed by two months of expanded training and another nesting period before those employees are 'frontline' ready. Every additional lateral position move or promotion comes with additional training, usually for a week. Within the past year, Grainger removed its policy that employees had to be at their position for a full year before moving to a higher position.
"We're really focusing on career advancement," says Grainger human resource manager Tim Markus, who has been in Janesville since the facility first opened. "Once someone gets into a position, we ask for mastery of that position before they apply for another role. Some might be able to do that in three months, some might take a year or two."
Markus has seen numerous Grainger evolutions and industry trends over his three decades with the company, with one of the latest being an increasing challenge to find new talent. Janesville's unemployment rate was nearly 14 percent in early 2010 and has steadily decreased ever since, registering just 2.9 percent in November 2017. It's likewise at the other population centers within the 40-mile radius the contact center typically recruits from. There's simply a much smaller talent pool to draw from. Nevertheless, Grainger has been steadily recruiting since 2016.
"It's getting tougher, you can see the unemployment is really affecting the area," Markus says. "Every other business in Janesville is feeling the same thing. I talk to a lot of HR people near here who have jobs that have gone unfilled for 60 to 90 days. That just didn't happen 2 years ago."
"In this building here, it's always hard because of the unemployment, but we want the best of the best anyway," Mulligan adds. "We're going to invest a lot in finding you, hiring you and training you up, and we want to keep you for a long time, too."
Another change is the hiring demographic, which is now predominantly millennial. The contact center is investing continuously more effort into social media recruiting efforts, along with promoting job flexibility and a relaxed atmosphere. Grainger has had a casual dress code since around 2010, with one of its latest developments being the approval of hoodies for work attire.
Helping the Grainger Janesville team's hiring efforts is strong word-of-mouth about the company, and it has the recent accolades to back it up. A year ago, Grainger chairman and CEO D.G. Macpherson was one of 150 chief executives of major companies who signed on to the 'CEO Action for Diversity & Inclusion' pledge, committing to advance diversity and inclusion in the workplace; last November, Grainger earned a perfect score on the 2018 Corporate Equality Index for a fourth straight year; this past January, Grainger topped the diversified wholesaler category in Fortune's annual 'World's Most Admired Companies' list for a fifth straight year; and also in January, Grainger was named a 2018 Best Company to Work for Millennials by The Women's Choice Award.
"In our new hire groups, one of the questions we ask — and in interviews — is, 'why did/do you want to work here?' Markus says. "What comes up more than anything else is, 'I heard it was a great company to work for.' That's really what we want to keep pushing to the community."