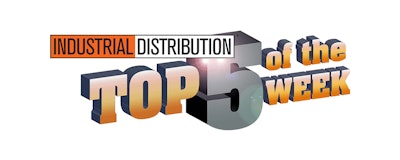 This was a pretty quiet week as far as major industrial distribution market news, especially compared to the previous week, which included numerous acquisitions involving ID Big 50 List companies. Two sales best-practices pieces were traffic-drivers this past week, while IBT Inc.'s business restructuring was the top news item.
Here's this week's Top 5
The Most Important Information A Salesperson Can Possess: While persistence is a good trait to have in sales, too much of it can easily be a customer turn-off. Here, Troy Harrison explains how comfort is one of the biggest factors in determining whether a customer buys or not.
IBT Forms Parent Company, Announces Leadership Changes: IBT Inc., which has done business as IBT Industrial Solutions, on Monday announced a series of changes in its business entity structure and organizational leadership responsibilities that went into effect April 1, 2018.
The Key To Succeeding In Industrial Sales: The most successful industrial salespeople focus on value above all else, yet research shows most sales meetings are not valuable to buyers. Here, Mike Schultz advises how to provide additional value in your sales conversations.
Large Customers Power Fastenal's Continued Strong Growth In April: Fastenal's April included continued considerable sales growth across the board, with the pace of growth in national account customers increasing further.
Supplier Earnings Roundup - Sales Soar At Kennametal, Timken, Eaton Hydraulics: With another quarterly fiscal reporting period winding down and many publicly-traded industrial distributors and suppliers posting their latest fiscal figures, see a roundup of the key numbers posted by suppliers Kennametal, Timken, Eaton, SKF and Emerson.