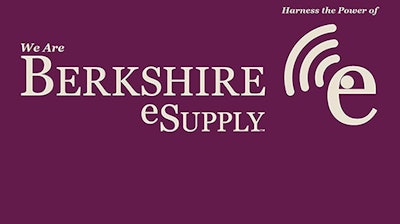 In the fall of 2017, Berkshire Hathaway acquired MROP distributor Production Tool Supply and created a new wholesale division, Berkshire eSupply. In this exclusive interview, ID editor Mike Hockett chats with Berkshire eSupply President John Beaudoin about the division's emergence and how it plans to aid independent distributors.
Attention independent MROP products distributors: There is a new source for your supply chain, inventory and e-commerce needs in the form of a new master distributor.
Through the acquisition of Production Tool Supply's (PTS) wholesale division — No. 34 on Industrial Distribution's 2017 Big 50 List — multinational conglomerate holding company Berkshire Hathaway has formed a new entity called Berkshire eSupply, which aims to empower independent distributors. The acquisition actually took place in the summer of 2017, but the firm hasn't gone public with the news until now.
With more than 1,000 suppliers, the company has more than 1 million industrial/MROP products available online, dispersed from three strategically located distribution centers (DCs) — Detroit, Los Angeles and Houston. In the spirit of 4.0 logistics, future state-of-the-art automated fulfillment centers are designed and underway. The new Berkshire eSupply has various ready-made tools connecting all aspects of the supply chain, aiming to deliver the perfect blend of technology, talent, data and products. By digitizing and optimizing the supply chain, Berkshire eSupply's goal at-heart is to remove costly redundancies for distributors — enabling them to sell more and to be more profitable.
Besides its vast inventory and logistics capabilities, Berkshire eSupply's services such as private label e-commerce platforms, private label vending solutions and marketing support options have the company set to be a formidable partner for independent distributors looking to provide their customer base a level of service that can surpass the national distributors (such as those on ID's Big 50). Encouraging independents to "Harness the Power of e" per its tagline, the company's website is berkshireEsupply.com.
See an artist rendering of Berkshire eSupply's soon-to-be new Detroit headquarters facility, which is currently under construction.
I recently had an exclusive interview with Berskshire eSupply president John Beaudoin about the company's development so far, its plans going forward and the role it will play in the greater MROP distribution space.
Mike Hockett, Industrial Distribution editor: What sparked Berkshire's drive to create this new master distributor entity?
John Beaudoin, Berkshire eSupply president: If you look at the marketplace itself — let's call the North American MROP marketplace at about $150 billion — Berkshire saw a large fragmentation. Independent distributors are looking for resources to compete. We have been providing wholesale services for over 65 years and with our new ownership, we are building an infrastructure to take our support to the next level.
MH: Berkshire eSupply has a solid foundation from which to start this master wholesaler operation. What can we expect to see in terms of expansion in the near future?
JB: Now with Berkshire Hathaway resources, we're reinvesting in the company. Our goal is to have three-to-five state-of-the-art DCs to fulfill orders across North America to the independent distributor or blind ship directly to the distributor's customer. We enable the independents to have a web store, print material and marketing capabilities, but most importantly, a vast MROP product offering. We match local strengths and consolidated resources.
MH: And how about the Berskshire eSupply product expansion plans?
JB: We're also going to expand our product portfolio significantly. There are about 26 MROP product categories in the industrial market. Our objective is to penetrate each of these categories by providing online content for the distributor's e-commerce webstores. For all these categories, we already have the data-attributes populated down to the SKU level available for distributors to add to their offering on their own private label webstore. Currently there are over 1 million SKUs. Our goal is to make sure the independents are supplied with a very robust MROP product offering to complement their go-to-market strategies and to expand their reach.
MH: E-commerce has become such a vital tool for so many industrial distributors, yet many smaller and mid-sized independents haven't yet gotten on board, often due to a lack of resources to do it in-house or capital to buy a platform. How does Berkshire eSupply plan to help distributors in this area? Can you walk me through how that service works?
JB: We are providing a comprehensive e-commerce channel for their customers to buy through while removing the barrier of entry cost. It's their website. Berkshire has no access to their information. Our cloud-based system allows for us to manage product content and update each distributor's webstore with product updates and product expansions via the cloud. Today we have over 1 million SKUs on the platform and are aggressively expanding. Once they are uploaded to the cloud, they are updated on the distributor's platform automatically. The system sends them an email saying "these brands and SKUs were added for you" — It's that easy!
MH: And what about ERP? Can distributors link their ERP system to the e-commerce platform?
JB: Yes. Most partners that are on this platform are connected to their ERP. By doing this, they can manage their customer pricing, stock, order tracking, etc. We build the bridges to their ERP. If a distributor chooses not to connect to their ERP, all processes can be managed on the back end of the platform.
MH: Berkshire eSupply offers its distributors a large array of services, ranging from reducing on-site inventory, private label e-commerce solutions, punch-out catalogs, vending machines and beyond. It seems independents have quite a lot of options for boosting their capabilities through Berkshire.
JB: It's a menu — a veritable smorgasbord of services they can choose from. With the first being a large MROP inventory. Being quick to market is the key allowing the independent to compete with the large corporations — the big boxes that are trying to get into their space. Which is taking it to a different level for the independent. We have private label vending machines that allow the independent to cost-effectively compete. A robust e-commerce suite combined with a vast MROP selection is available and the cost barriers are removed. Our name "eSupply" suggests a dominant e-commerce operation. While we certainly are keeping up with technological trends, we do not want our distributors to be intimidated by the name. You can think of our "e" as meaning "electronic". But it also can mean "everyone" or "evolving". So no matter if you are a large independent or a small mom-and-pop, we are in the business of selling tools and building long-term partnerships. This go-to-market strategy has already enabled thousands of independents who have already chosen strategic portions or all of our "e-services".
Having said all that, Berkshire's strength is in our people — hundreds of seasoned industry professionals ready to earn your trust and committed to ensuring your complete satisfaction with Berkshire eSupply!
See Berkshire eSupply's digital distributor catalog here