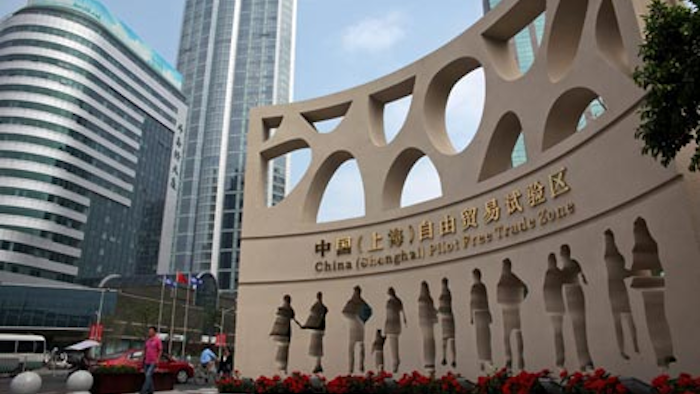 September 29, the opening of the Shanghai Free Trade Zone (SHFTZ), was a big day. In fact, it marked one of the three most historically significant steps that China has ever taken toward a more open economy.
The other two big steps were a few years ago. China's entry into the World Trade Organization occurred in 2001, and the development of special economic zones began in the 1980s. While some analysts are skeptical that the government will implement the new policies that are being discussed with SHFTZ, it is clear that this zone represents significant benefits to multinationals operating in China.
The reforms – and most of what is written in the media – are primarily financial and investment benefits provided to companies registered in the zone. Little has been written about the all too important impact of the zone on logistics and the opportunities it will bring.
Here are predictions about the logistics realm under SHFTZ:
The establishment of certain logistics companies will become more attractive. Foreign invested logistics firms will no longer be subject to a maximum equity share of 49% of a joint venture. Logistics companies registered inside the free trade zone may now have a majority share, though they will still need to be joint ventures. In addition, there will no longer be a minimum registered capital amount for financial leasing project companies which are set up for one aircraft or vessel.
Transfer of cargo by shipping companies will now be allowed inside the SHFTZ.  Shanghai will become a consolidating point for goods bound for other ports. This will put pressure on ports of other countries that currently handle this transfer traffic. For example, Korea stands to lose considerable volume when goods no longer need to travel to Busan or Incheon to be transferred before going to northern China. The same principle will apply to air cargo being transferred at the Pudong airport, and even passengers will be able to make international transfers without a visa.
Foreign ships will now be allowed to ship from the SHFTZ to other domestic ports. Currently, only Chinese-owned vessels can ship between domestic ports.
Customs administration will be greatly simplified. Currently, border clearance is performed according to each individual waybill. Inside the SHFTZ, border clearance may be done by monthly or even quarterly clearance of all waybills. Goods can be delivered directly to your warehouse in the free trade zone without waiting for clearance. This is especially important for fresh food. The current wait of a couple weeks will be eliminated and the goods can go directly to a temperature controlled warehouse. The goods will still need to be cleared before being shipped outside of the SHFTZ, but it is expected that clearance time will be reduced to two to three days.
Perhaps the biggest impact on the supply chain is that the SHFTZ will now be more attractive as an international hub. Goods can be delivered to the zone and be held in inventory without paying duty. Only when an item is shipped domestically is the duty paid. Items bound for other countries will not be subject to duty or complicated customs procedures.
One specific application of the last point is worth elaborating on: ecommerce fulfillment will be allowed within the zone. Foreign goods can be imported, and the duty deferred until the item is ordered. Even international orders could be fulfilled from Shanghai. Currently, Alibaba and one other Chinese company are setting up such operations. It is anticipated that this ecommerce business will eventually be opened up to foreign companies, though it is still in a trial phase with local companies.
These policies are based on the best information available. But bear in mind that the SHFTZ is an experiment and the government will continue to evolve these policies based on what is what is beneficial to the economy while trying to contain any risks the policies may present.
The potential for multinationals is tremendous. Even though China will take a cautious, measured approach to opening up the zone, the opportunities for distribution into China will certainly take a giant step forward.
Please contact us at jserstad@tompkinsinc.com if you want the latest information on logistics in the SHFTZ. For more from Tompkins International, please visit www.tompkinsinc.com.