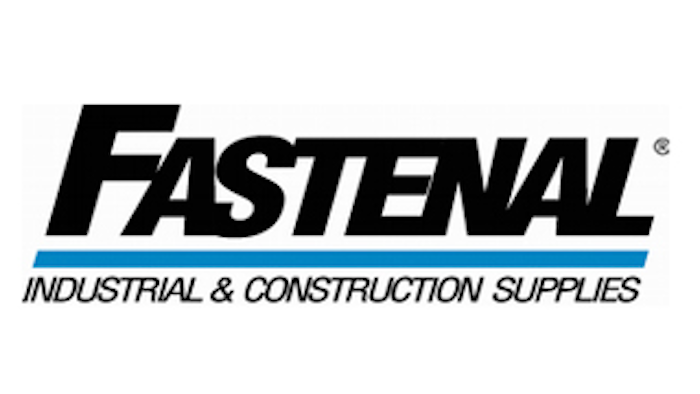 Fastenal has made it clear that it will continue to ramp up its vending machine program in 2014, despite a slight slowing of that business reported during a recent quarterly report. The company also says store openings will be at the lower end of its forecast from earlier this year based on "soft" industrial business.
"We plan to introduce new incentives in the early part of 2014 to the vending program with a goal of ramping up the [vending machine] signings," said Will Oberton, CEO of Fastenal in an earnings call report with financial analysts. The company's goal is to record about 2,000 signings per month next year.   
"So it's really about getting the people in place and then pull the hammer back or put a little more selling power back into the vending program. And if you look at the numbers, you'll see that we still have good growth in the vending customers, just over 15%," Oberton said according to a transcript of the call as provided by www.seekingalpha.com.
Oberton said although signings were down from where the company wants them to be, "we believe we're moving in the right direction."
Overall, Fastenal reported a 7 percent increase in sales to $858.4 million for the third quarter from $802.6 million for the same quarter last year. Its sales and forecast initially disappointed investors and its stock, which has been an excellent one for stockholders over the years, but has dropped since the earnings announcement.
The company said that for the first nine months of 2013, Fastenal   opened 44 new stores, an increase of 1.7% since December 2012. During the first nine months of 2013, the company installed 11,153 new FAST industrial vending machines, an increase of 52.9% since December 2012.
Fastenal earlier this year had expected to open between 55 and 80 stores during 2013. That number is now expected to be about 55 to 60, at the lower end of the forecast.
"I think the reason for the trimming is we're now 9 months through the year and we have a better idea where we're going to finish at. And so you narrow the range down. There's nothing more than that," said Daniel Florness, Fastenal's CFO, according to the transcript.
Oberton added that the company has made solid progress on its previously announced plans to add up to 900 new employees in its stores by the end of the year. Many of those new employees will be providing additional sales support in order to give salespeople more face to face time with customers.
The company so far has hired about 400 full-time equivalent employees.
In addition to hiring additional personnel to help their business operations, the company has added 50 district managers.
Florness also noted the success of THUB, a centralized facility near Fastenal's distribution center in Indianapolis. THUB, which began operations in July, is a highly automated facility in which products are picked and containerized for shipments to its stores for use in customers' vending machines.
Oberton pointed out that Fastenal, like many companies, is experiencing a "soft" industrial market that isn't getting worse but also is not improving.
Fastenal also says that its fastener sales grew only one percent in the past quarter as factories it supports in China and Taiwan are experiencing a slowdown in business. Fastener imports from Asia are also reportedly operating at low levels indicating that demand is not growing.
Metalworking remains a tough sector, said Oberton. However, he noted that the company's metalworking business still was up 10 percent for the quarter.