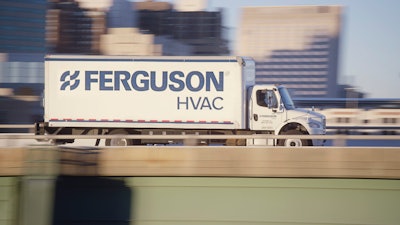 Ferguson
Plumbing, HVAC and industrial products giant Ferguson posted a 5% increase in sales in its latest fiscal quarter, but its profit declined slightly amid "near-term uncertainties."
The U.K.-based distributor on Tuesday reported net sales of more than $6.8 billion in the three months ended Jan. 31, up from $6.5 billion in the same quarter last year. The company's operating profit edged down 1% over that span — from $555 million to $549 million — while both gross margin and operating margin also slipped year-over-year. Ferguson's adjusted EBITDA was off by nearly 3%.
Ferguson CEO Kevin Murphy said that the current fiscal year was "unfolding as we expected," and the company maintained its full-year forecast for net sales and adjusted operating margin.
"We continue to appropriately manage costs to position the business for challenging end markets," Murphy said in a statement.
The company said its U.S. sales increased by 5.4% in the latest quarter while its regional adjusted operating profit increased by 0.5% amid a sluggish market for residential construction. The company highlighted 2.8% growth contributed by acquisitions; Ferguson added Oregon HVAC distributor Airefco, Louisiana HVAC distributor Guarino Distributing, Ohio waterworks distributor Pipelines and Minnesota's Power Process Equipment during the most recent quarter.
Ferguson's industrial supply operations came in at no. 16 on the latest ID Big 50.