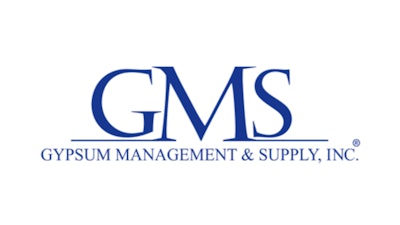 GMS
TUCKER, Ga — GMS Inc., a leading North American specialty building products distributor, on Thursday reported financial results for the fiscal third quarter ended Jan. 31.
Net sales for the third quarter of fiscal 2023 of $1.2 billion increased 7% compared with the prior year quarter, primarily due to resilient pricing in Wallboard, Ceiling tiles and Complementary Products, strong levels of multi-family construction activity, a slowly recovering commercial construction environment and continued sales growth both organically and otherwise in Complementary Products.
These results were partially offset by declining single-family construction demand and a challenging volume and pricing environment in Steel Framing. Organic net sales, which exclude the net sales of acquired businesses until the first anniversary of the acquisition date and the impact of foreign currency translation, increased 6.4%.
"We were pleased to deliver solid results for our fiscal third quarter, including heightened levels of net sales, net income, Adjusted EBITDA and cash flow," said John C. Turner, Jr., president and CEO of GMS. "Continued strength in multi-family, improved commercial activity and continued expansion of Complementary Products helped to offset both the early stages of a slowdown in single-family construction as well as difficult weather conditions during the quarter."
"At the end of December, we acquired Tanner Bolt & Nut, Inc. in Brooklyn, New York. Tanner is a leading distributor of tools and fasteners servicing primarily the five New York City Boroughs and Long Island. Complementing this acquisition is our new greenfield yard, also in Brooklyn, with a dedicated focus on Ceilings, which we opened in early January," Turner continued. "Combined, these investments give us a meaningful presence in the New York City area and a base from which we intend to continue to invest and grow, demonstrating our ongoing commitment to our strategic priorities of expanding our footprint and growing our Complementary and core product sales.
"As we look to close out fiscal 2023 at the end of April, it appears single-family demand will continue to soften while multi-family and commercial activity should improve seasonally with continuing year-over-year growth. During this period, we expect to see year-over-year pricing in Wallboard, Ceilings and Complementary Products remain resilient. Similar to this quarter however, pricing and volumes in Steel Framing will likely remain challenged.
"Given these end market dynamics, subsequent to the end of the quarter, the Company implemented cost reduction initiatives to better align our operations with the current demand outlook. As phased in, these initiatives are expected to reduce fixed SG&A expenses by approximately $15 million on an annualized basis. Approximately $2.5 million in one-time execution costs related to these reductions will be recorded during our fiscal fourth quarter.
"All considered, we continue to be well-positioned with the scale, wide range of product offerings and expertise to adjust as needed to service the demands of all of our customers and continue to grow our business over the longer term."