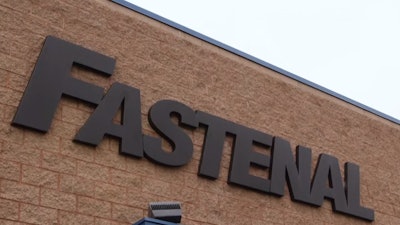 Fastenal posted another strong quarter to wrap up its 2022 fiscal year, but its latest quarterly sales increase moderated compared to earlier in the year.
The Minnesota fastener and industrial supply giant posted just shy of $7 billion in overall sales in 2022, a 16% increase over 2021. Operating income and earnings before income taxes were both up more than 19% over that span, while net earnings rose 17.5%. Gross profit for the year climbed nearly 16%.
In the fourth quarter of 2022 alone, sales were up 10.7% compared to the same period in 2021 — the company's sixth consecutive double-digit sales jump but its lowest increase of the year. The distributor's Q4 net earnings were up 6.2%, and gross profit rose 7.8%. The company's earnings per share of $0.43 in the quarter slightly exceeded Wall Street projections.
Fastenal officials said the company saw higher unit sales in the latest quarter as strong demand in capital goods and commodities markets offset sluggish consumer goods and construction sectors. The company also said the positive impact of price inflation on sales numbers eased in the fourth quarter. Prices were stable in the latest three-month window, and the company said its moves to mitigate the impact of inflation in fasteners and transportation services boosted net sales by 350 to 380 basis points.
The company also warned that despite easing prices across many inputs, it could take "several quarters" before its costs reflect that trend due to its long supply chains.
Fastenal said it opened a total of 306 "onsite" locations during 2022 and closed 99, which it attributed to normal churn in its business. Its workforce increased by 1,520 in the past year.