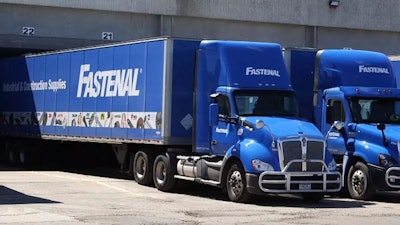 Fastenal reported its January sales results on Thursday, which showed another solid month of year-over-year growth in daily sales. More granularly, the results showed that while the distributor's sales of safety products are still elevated due to the COVID-19 pandemic, its by a considerable less amount than just a month earlier, while sales of fastener products are essentially flat.
Winona, MN-based Fastenal — No. 5 on Industrial Distribution's Big 50 List — reported January total sales of $448 million. That's down 3.2 percent year-over-year (YoY), but only due to January 2020 having two additional business days. On a daily sales basis, the company's sales improved 6.5 percent, marking another solid growth month after 9.3 percent growth in December, 6.8 percent growth in November and 4.1 percent growth in October.

In January, Fastenal's sales of safety products were up 26.1 percent YoY. While certainly still elevated compared to pre-pandemic levels, it was actually the smallest YoY growth the company has had for safety products since it first broke out figures for that category in March 2020 (+31.0 percent). That mark surged to 120 percent, 136 percent and 95 percent growth in April-June before hovering in the 30s from July through December. January's YoY safety sales growth was 10.6 percentage points down from December.
Meanwhile, after December marked Fastenal's first month of YoY fasteners sales growth — 0.5 percent — since February 2020, January checked in with a 0.2 percent decline in the category. While a modest contraction, it combined with the safety figure as further evidence that the company's product mix appears to be regulating closer to normalcy.
The company's January sales of all other products improved 3.9 percent YoY, compared to 4.8 percent in December, 1.7 percent in November and 0.8 percent in October.
Other statistics from Fastenal's January sales report:
US sales improved 4.4 percent YoY, following gains of 7.7 percent in December and 5.4 percent in November. Canada/Mexico sales improved 14.8 percent in January (14.4 in Dec.) and sales to the rest of the world were up 35.6 percent (34.4 in Dec.).
January sales to manufacturing customers were up 4.8 percent YoY (4.6 in Dec.), while sales to non-residential construction customers were down 8.9 percent (-8.6 in Dec.).
Fastenal ended January with a total headcount of 20,463, down 98 employees from December ad down 7.0 percent from a year earlier.