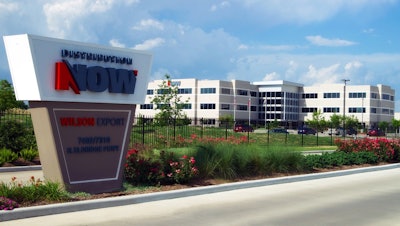 NOW Inc.
Five days after announcing its executive chairman is stepping down, oilfield products distributor and energy services provider NOW Inc reported its 2020 third quarter financial results on Wednesday, with the results reflecting a drastically smaller-sized company than a year earlier.
The Houston-based company, which does business as DistributionNOW and has been under the direction of new CEO Dave Cherechinsky as of June 1, had already trimmed headcount from 4,400 to 2,650 during 2020 through the end of June while reducing its physical footprint.
DNOW report Q3 total sales of $326 million, less than half of the $751 million from a year earlier, and down from $370 million in Q2. Likewise, the company's cost of products in the July-September quarter were $264 million, compared to $601 million a year earlier. Total Q3 operating loss was $21 million, compared to a $14 million operating profit a year earlier and a $29 million loss in Q2. Meanwhile, total Q3 net loss was $22 million, compared to a $10 million profit a year earlier and a $30 million loss in q2.
NOW Inc. was No. 10 on Industrial Distribution's 2020 Big 50 List on account of its $2.95 billion in 2019 sales, but it figures to fall at least a few spots for next year's list, given the company's downsizing throughout 2020.
"We have produced strong gross margins despite the deflationary pull by the market and have extracted historic levels of cost from the business with plans for further cost transformation," Cherechinsky said in the company's Q3 earnings release. "Our working capital discipline has resulted in a record cash balance and we are deploying disruptive technologies to simplify the customer experience, develop new revenue channels and drive efficiencies."
The company has zero debt.
In its Q2 earnings release back in early August, DNOW said it was offshoring lower-level back office labor as the company deploys technology to augment labor content. NOW is rolling out a new order management system that it said will enable a more efficient quote-to-order process, yielding higher employee productivity.