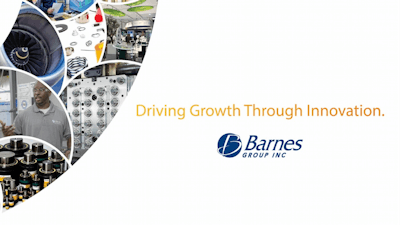 Aerospace and industrial parts supplier Barnes Group reported its 2020 third quarter financial results on Oct. 23, showing that while selling conditions have improved, they're still significantly far below that of a year ago.
Bristol, CT-based Barnes — which in early July said that cost-cutting measures would likely reduce its workforce by about 8 percent — said that Q3 sales totaled $269 million. That's down 28 percent year-over-year (YoY), with organic sales down 26 percent. Those figures compare with Q2 sales of $236 million that were down 37 percent YoY/32 percent organic.

Q3 operating profit of $31.2 million was less than half of the $67.6 million it had a year earlier, but better than the $10.1 million it had in Q2 and operating margin fell 650 base points YoY to 11.6 percent. The company's total Q3 net profit of $15.4 million was roughly one-third of the $45.8 million of a year earlier, but up from $0.6 million in Q2.
"Barnes Group delivered third quarter financial performance near the high-end of our July expectations with Industrial seeing promising signs of recovery in select end markets and Aerospace effectively managing through the significant pressures of a challenging business environment," said Patrick Dempsey, Barnes Group president and CEO. "As anticipated, the ongoing impacts of the global COVID-19 pandemic weighed on our business, although our sequential improvement and continued solid cash generation are encouraging. Swift proactive actions taken early in the pandemic have enabled Barnes Group to remain profitable and to sustain good cash performance, both clearly evident in the third quarter results."
By business segment in Q3:
Industrial sales of $196.9 million were down 15 percent YoY, with organic sales down 12 percent. Those figures compare with Q2 sales declines of 29 percent YoY/22 percent organic. The company attributed the Q3 declines primarily to significant volume decrease caused by ongoing COVID-19 impacts on automotive and industrial end markets. Operating profit of $24.4 million fell 30 percent YoY.

"During the third quarter, manufacturing PMI's in our major geographic regions have improved and Industrial orders and sales have followed," the company said. "Although the global COVID-19 pandemic continues to weigh upon our expectations for Industrial, we anticipate sequential improvement in both orders and sales in the fourth quarter."


Aerospace sales of $72.1 million sunk 49 percent YoY, identical to Q2. Third quarter OEM sales fell 44 percent and aftermarket sales fell 58 percent. Sequentially, total sales improved 2 percent from Q2. Third quarter operating profit of $6.8 million was down from $32.7 million a year earlier.

"In the third quarter, our aerospace end markets continued to be severely impacted by the global pandemic. In the near-term, we anticipate our OEM business will see continued softness in demand for its manufactured components as aircraft production rates at Boeing and Airbus have been reduced. While our aerospace OEM sales are expected to increase on a sequential basis in the fourth quarter, recovery to prepandemic levels is anticipated to take several years. In the aerospace aftermarket, lingering declines in aircraft utilization and diminished airline profitability will negatively impact our business. As flight activity resumes, we anticipate the aftermarket business to gradually improve."