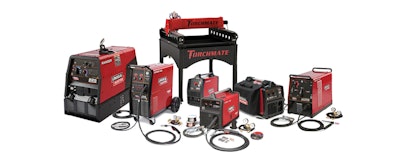 Cleveland, OH-based welding products and equipment manufacturer Lincoln Electric reported its 2018 first quarter financial results on Monday, led by continued major year-over-year (YoY) sales increases, both overall and organically.
The company posted Q1 total sales of $757.7 million, up 30.4 percent YoY, with organic sales up 9.4 percent. That follows Q4 2017's overall sales growth of 32.5 percent and organic growth of 10.0 percent.
By business segment in Q1:
Americas Welding sales of $434.8 million increased 13.4 percent YoY, led by a 7.5 percentage point increase from volume and 4.6-point increase from price.
International Welding sales of $247.3 million nearly doubled at a 91.9 percent YoY increase, led by a 79.9 percentage point increase from acquisitions, a 10.2-point benefit from foreign exchange, along with a 5.4-point gain from price and a negative 3.7-point impact from price. In 2017, Lincoln Electric acquired Paris, France-based Air Liquide Welding for $125 million.
The Harris Products Group sales of $75.6 million increased 10.1 percent YoY, led by a 9.3-point gain in volume.
Lincoln Electric's Q1 total profit of $60.8 million increased from $55.8 million a year earlier, while operating profit of $85.2 million increased from $79.4 million.
Lincoln's Q4 total profit of $24.2 million was down 54.7 percent YoY, while gross profit of $239.5 million increased 21.3 percent and operating profit of $75.5 million decreased 9.1 percent.
"We are pleased to report good sales momentum in the first quarter," stated Lincoln Electric chairman, president and CEO Christopher Mapes. "Higher capital investment and the drive for higher productivity have increased demand across our main product categories and trends remain positive. While we work to mitigate inflationary headwinds, we are continuing to invest in long-term profitable growth. In the quarter, our European integration team continued to pace ahead of plan and we celebrated the grand opening of our new Welding Technology and Training Center. These investments support our '2020 Vision and Strategy' and long-term value creation for our customers and shareholders."
Lincoln Electric's Q4 2017 financials presentation stated that the company was in the consultation process about proposed closures at three manufacturing facilities and two distribution centers, although it didn't specify where those locations were at the time. The company's Q1 presentation stated the company "continued progress on facility consolidations in Europe," but didn't elaborate further.