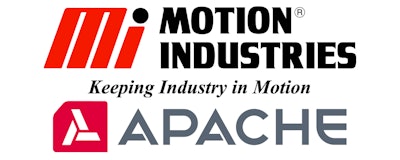 Motion Industries is staying busy on the acquisition trail, adding a major name in the industrial rubber products market to its portfolio.
On Thursday, Motion — No. 6 on Industrial Distribution's Big 50 List — announced that it will acquire Cedar Rapids, IA-based Apache Hose & Belting for an undisclosed amount, with the deal expected to close Nov. 1. Founded in 1963, Apache specializes in value-added fabrication of belts, hoses and cut and molded products used in a wide variety of industries. Apache has seven locations in the U.S., serving more than 2,500 customers throughout North America and Europe.
Motion expects Apache to generate about $100 million in annual sales.
"Apache is a premier distributor serving both the industrial and agricultural markets and combined with Motion, creates a market leading value-added offering in the belting and hose business," said Paul Donahue, president and CEO of Motion Industries' parent company, Genuine Parts Company (GPC). "We are excited to welcome the Apache team to the Motion Industries and the GPC family, and we look forward to working with them to grow our businesses into the future."
It's just the latest bolt-on for Motion Industries, which most recently closed its acquisition of Los Angeles-based Numatic Engineering on Aug. 1. On March 30, Motion announced a 35 percent stake in Australia MRO distributor Inenco, and last fall it acquired industrial automation products and services distributor Braas Company.
The Apache acquisition announcement coincided with GPC sharing its 2017 third quarter financial results on Thursday, which included considerable year-over-year growth at Motion Industries, and fellow ID Big 50 subsidiary EIS Inc. (No. 22).
Motion Industries Q3
GPC's figures show that Q3 sales at Motion Industries (GPC's industrial products group) were up 7.1 percent year-over-year to $1.24 billion — essentially identical to Q2's $1.25 billion. Comparable sales were up approximately 4 percent. Motion Industries comprised 30.4 percent of GPC's total Q3 business.
Motion's Q3 operating profit of $94.6 million was up 10.6 percent year-over-year, while its 2017 ninth-month sales of $3.73 billion were up 7.1 percent.
EIS Inc. Q3
At Atlanta-based EIS Inc. — GPC's electrical products group — Q3 sales of $199.2 million jumped 11.6 percent year-over-year and dipped 2.7 percent from Q2. EIS comprised 4.9 percent of GPC's total business.
EIS' Q3 operating profit of $13.5 million decreased 5.1 percent year-over-year, while its 2017 nine-month sales of $588.3 million were up 9.2 percent.
Genuine Parts Company
GPC's total Q3 sales of $4.1 billion were up 3.9 percent year-over-year. Total net profit of $158.4 million was down from $185.3 million a year earlier.
GPC's automotive group — the company's largest unit — $2.17 billion in Q3, up 3.6 percent overall year-over-year and up approximately 1 percent on a comparable basis.
Q3 at GPC's office products group, S.P. Richards, were $510 million, down 4.7 percent year-over-year and comparable.
In addition to the Apache addition, GPC announced it will acquire Monroe Motor Products for its automotive group, with a closing date of Nov. 1. Monroe, founded in 1917 and based in Rochester, New York, is a regional automotive parts distributor with 17 stores and a large hub location.