Pittsburgh-based WESCO International — No. 5 on Industrial Distribution's Big 50 List — reported its 2016 fourth quarter fiscal performance on Thursday, led by continued year-over-year sales declines and sequential improvements from Q3.
WESCO posted Q4 sales of $1.79 billion, down 3.7 percent year-over-year. Acquisitions boosted sales by 1.8 percent, while one fewer business day negatively impacted sales by 1.6 percent. Organic sales declined by 3.6 percent. Sequentially, sales decreased 3.3 percent from Q3, while organic sales increased 0.3 percent. It was the company's first sequential organic sales growth in five years.
By end market:
Q4 Industrial (36 percent of business) adjusted organic sales were down 7 percent year-over-year, but up 2 percent sequentially.
Q4 Construction (34 percent of business) adjusted organic sales were down 2 percent year-over-year and down 1 percent sequentially.
Q4 Utility (16 percent of business) adjusted organic sales were up 3 percent year-over-year and up 4 percent sequentially, recording its fifth straight year of growth.
Q4 Commercial-Institutional-Government (14 percent of business) adjusted organic sales were down 6 percent year-over-year and down 5 percent sequentially.
The company said oil and gas sales were down approximately 25 percent in Q4.
"Fourth quarter results were in line with our expectations, and results for the full year were within the outlook range provided in December 2015. Normalized organic sales declined versus prior year but grew sequentially, reflecting improving momentum in our business," said John Engel, WESCO chairman and CEO.
Q4 operating profit of $82.1 million was down from $90 million a year earlier, while total profit of $47.4 million was down slightly from $48.4 million.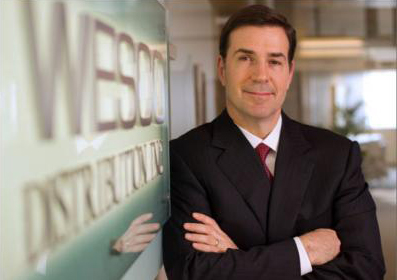 For the full year 2016, total WESCO sales of $7.34 billion were down 2.4 percent from 2015. Acquisitions positively impacted sales by 3.1 percent. Total organic sales declnied 4.9 percent in 2016. Operating profit of $332 million was down 11.2 percent year-over-year, while total profit of $101.6 million was less than half of 2015's $210.7 million.
"On a full year basis, our 2016 results reflect the challenging economic and end market environment, as well as the impact of political uncertainty on spending in the industries we serve," Engel said. We responded to these challenges by reducing our costs and streamlining our organization while ensuring continued strong free cash flow generation. These actions partially mitigated the impact of lower sales and business mix on earnings per share."
Engel added, "After two years of industry sales declines and talk of an industrial recession, we are pleased to hear increased optimism from customers and see the beginning signs of a recovery. In this period of change and uncertainty, customers and suppliers need strong and reliable supply chain partners."