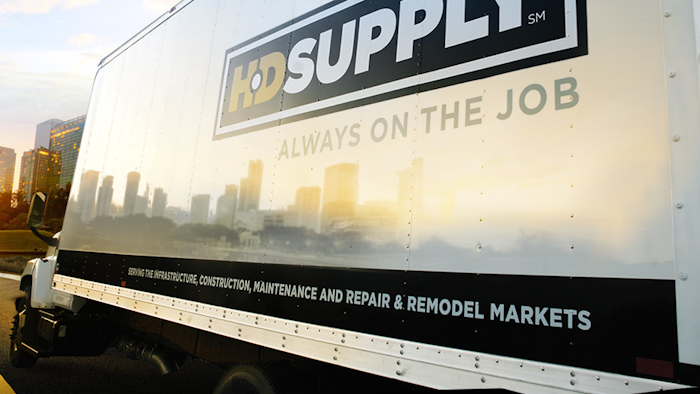 Atlanta-based HD Supply — No. 6 on Industrial Distribution's 2016 Big 50 List — reported its 2016 second quarter fiscal results on Wednesday, highlighted by a year-over-year sales gain and a decrease in total profit.
HD Supply posted Q2 sales of $2.02 billion, up 4.1 percent from a year earlier and up 13.3 percent from Q1. The Q2 sales were on the low end of the company's outlook of $2 billion to $2.05 billion it issued in its Q1 report, which anticipated year-over-year growth of 5.0 percent.
The company had a Q2 profit of $98 million, down from $109 million a year earlier but up sequentially from Q1's net loss of $14 million (largely due to a $115 million loss in Q1 due to extinguishing debt).
HD Supply's Q2 gross profit increased 4.9 percent year-over-year to $680 million, while operating profit of $237 million increased 6.3 percent.
By business segment:
Facilities Maintenance Q2 sales of $741 million (36.7 percent of total) increased 1.1 percent year-over-year.
Waterworks Q2 sales of $733 million (36.3 percent of total) increased 4.4 percent year-over-year.
Construction & Industrial - White Cap Q2 sales of $489 million (24.2 percent of total) increased 7.5 percent year-over-year.
By month, net sales during Q2 were $609 million in May, $622 million in June and $785 million in July. There were 20 selling days in May, 19 selling days in June and 24 selling days in July. Year-over-year daily sales growth in Q2 was 3.6 percent in May, 6.2 percent in June and 3.0 percent in July. HD Supply said preliminary August sales were approximately $639 million, with daily sales growth of 2 percent. August 2016 and August 2015 each had 20 selling days.
The company's Interior Solutions segment was sold off on May 31 and listed as a discontinued operation in the Q2 report.
HD Supply said it anticipates Q3 sales of between $1.99 billion and $2.04 billion.
On June 13, HD Supply broke ground on its new Atlanta headquarters, which the company calls its Leadership Development Center. The eight-story, 222,500-square-foot facility will eventually house nearly 900 associates and is set to debut in early 2018. The facility will include a leader training and customer support center.