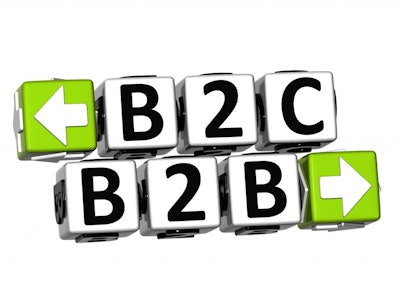 In today's business world, technology has opened the door to reaching and attaining a whole new customer base. The development of e-commerce has presented distributors with the opportunity to target not only businesses but also the individual consumer, converging the B2B and B2C markets. In fact, a recent Aberdeen report* found a growing trend towards implementing this new online presence among the leading wholesale distributors, with twice as many of them adopting technologies, such as web portals, to improve their company's accessibility to new customers. Yet, while evolving with current innovations is vital to remaining competitive in a tough economy, it also introduces the need for new business processes and the challenges that come with them.
The Challenges of Integrating E-Commerce
With e-commerce giants, such as Amazon and eBay offering next day or even same day delivery on purchases, the online B2C customer has come to expect rapid, accurate service at the click of a button. If these expectations are not met, this highly-connected and technology-savvy shopper will quickly and remorselessly take their business elsewhere. However, this is not the expectation for B2B customers. Where B2C order-to-delivery cycles average only 2.5 days, the average time from order to delivery for B2B purchases is typically 9.4 days, a large and significant difference.
In order for wholesale distributors to deliver the same offer and compete on the same level as companies like Amazon, they must have company-wide, efficient business processes in place to focus on the increased, short cycle demand of small batch orders. Unfortunately, this is often not the case. While purchases through their web portal are automatically processed, most distributors must also still go through the laborious practice of manually processing the fax, email and mail orders they continue to receive from their B2B customers. With their staff occupied keying in hundreds of sales orders daily into their internal system, it is inevitable that time and precious resources are diverted away from other important business areas, such as rapid order fulfilment and customer service.
Yet, if distributors want to retain their already loyal customer base, asking B2B customers to change the way they do business is not acceptable. Most already have their own longstanding unique internal processes in place, requiring purchase orders to receive against. They are therefore understandably reluctant to duplicate the effort required to create these purchase orders for their own system and then re-enter the same order item by item a second time using the distributor's web portal. Since distributors are in business to serve their customers, implementing a change that requires customers to do more work for the distributor's benefit would most likely spur them to look elsewhere.
Distributors also run a further risk by introducing e-commerce into their business communications with B2B customers. Not only is this change disruptive, damaging customer retention and loyalty, it also pushes the customer to go online. Once there, the informative power of the internet is at their fingertips – and that of their competitors. As they enter their order for the second time line by line into the distributor's web portal, they may be inspired in a way they would not previously have been, using the opportunity to perform a web browser based price comparison between the distributor and others offering the same products. Moreover, any customer using a browser based portal has a higher chance of being targeted by competing companies. Distributors may face the danger of their customers being unintentionally introduced to targeted marketing from competitors while using their e-commerce site. With product items and descriptions saved in cookies and search engines such as Google and Bing, competitors use this data to target and entice customers to comparison shop.
So, faced with these challenges and the pressing need to maintain their competitive edge by converging B2B and B2C customer bases, how can distributors leverage technological developments, such as e-commerce, while also retaining and meeting the needs of their long-term customers?
Bridging the B2B/B2C Convergence Gap
Sales order automation solutions can now bridge the divide between the distributor's need to leverage e-commerce technology to reach new customers and the unique needs and convenience of their already established B2B customer base.
These solutions, which do not rely on error-prone optical character recognition (OCR), allow companies to treat email, fax and print orders like standard electronic documents, capturing critical data from them with 100 percent accuracy. Once captured, the data then flows into the company's system and is automatically routed to the appropriate channels with total visibility. Thus not only is the need for laborious and time-consuming manual entry eliminated, but B2B customers with their own internal systems can continue their ordering practices without change or disruption. Resources and staff time can then be refocused away from inefficient manual order processing and onto more important tasks such as the rapid order fulfilment that attracts B2C customers to make purchases.
Ultimately, harnessing the power of sales order automation solutions can help distributors streamline their company-wide processes to meet an increasing number of orders, while improving their current customers' overall experience of service. Once introduced, growing demand from B2C customers can be met in a timely manner without facing the risks of changing the way already established B2B customers do business. In fact, there is no need to even inform them of changes to the sales order process. Meanwhile, distributors can process and ship orders more quickly and with guaranteed accuracy. Thus, not only do sales order automation solutions allow distributors to maintain their competitive edge and a high level of customer service, moving from customer order to payment to shipment more rapidly and more efficiently, but they also allow them to handle a much higher volume of orders without the need for more staff.
*Bob Heaney, "Is Your Omni-Channel Strategy Driving Your Customers to Shop a Competitor?" Aberdeen Group, September 2015
Brent Halverson is President and CEO of ecmarket, a cloud-based solutions developer and creator of Conexiom – a sales order and invoice automation solution for companies seeking faster payment cycles.