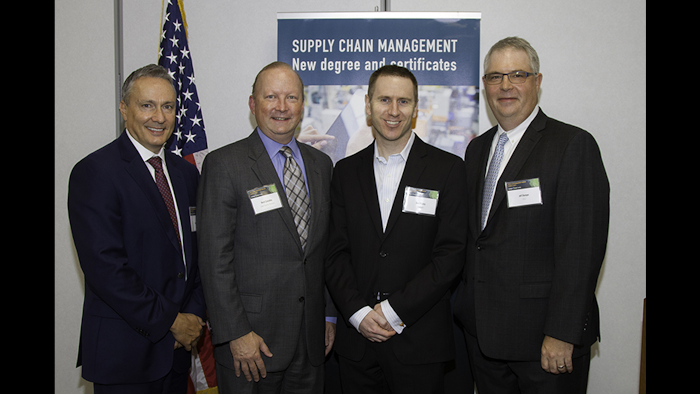 Responding to the needs of area residents and employers, the College of Lake County in Grayslake, IL has launched an associate degree and two certificate programs in supply chain management. The field involves the movement and storage of raw materials, inventory and finished goods from supplier to customer, which may be other businesses or consumers. 
Funded by a grant from MRO products distributor Grainger — No. 2 on Industrial Distribution's 2017 Big 50 List — the program consists of a 60-hour A.A.S. degree in supply chain management and two certificates: Introduction to Supply Chain Management (15 credits) and Advanced Supply Chain Management (30 credits).
The new offerings are designed to give students a choice of programs that best fit their goals and background, whether they have no college experience or have earned a bachelor's degree. Jobs include positions in procurement, inventory management, warehousing, distribution, logistics and transportation.
"CLC is grateful for the support of Grainger, who helped build a program where we both saw a need," said Dr. Jeffrey Stomper, CLC's interim assistant vice president of Educational Affairs and dean of the Business and Social Sciences division. "The company has been a longtime partner of CLC, and their collaboration with the college is another example of how Grainger is passionate about education, workforce development and creating positive change and new opportunities in the community."
Based on feedback, the program's courses will include much in-the-field learning, and the introductory course blends industry tours with online material that allows busy working adults to learn remotely, according to Pam Janson, CLC's new supply chain faculty member. Prior to joining CLC, she taught at Stark State College in Ohio and spent many years in various operations and supply chain positions.
Students will participate in experiential learning involving case studies and job shadowing as well as learn about the most up-to-date technologies such as enterprise resource planning systems. Additional focus will be on problem solving through use of critical thinking and cross-functional awareness. "We will teach supply chain principles and techniques that can be used for manufacturers as well as service industries," Janson said.
 In launching the new program, CLC's two major goals are to help area companies reduce turnover and and give employees a pathway to move up and a reason to stay at their current employer, said Lori Oriatti, a business instructor who helped develop the program.
Area companies large and small are reporting an acute need for supply chain workers, and student interest in the program is already strong. "If you've never been to college before, this new program will give you a friendly, supportive introduction to college," Oriatti said. "It also will provide a broader business perspective and enhance your computer and teambuilding skills."
For more information on the program, which includes a late-starting introductory course that begins Oct. 17 and ends Dec. 12, visit www.clcillinois.edu/scm. Additionally, an hour-long information session on the program will take place from 6-7 p.m. Sept. 26 in Room B202 on the Grayslake Campus. No pre-registration is needed.