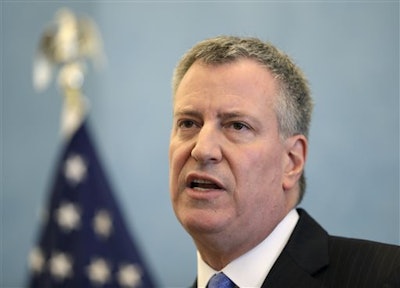 NEW YORK (AP) — Mayor Bill de Blasio, promoting his message of income equality, pressed influential New York City business leaders on Thursday to raise their workers' starting pay to $13 an hour.
De Blasio appeared at a gathering of The Association for a Better New York — a group that has not always seen eye-to-eye with the liberal mayor.
De Blasio has asked Gov. Andrew Cuomo and the state Legislature to raise New York's minimum wage to $13; Albany, to this point, has balked.
The state's current minimum wage, $8.75, is slated to go to $9 at year's end. Cuomo's new budget plan would raise it to $11.50 in New York City and $10.50 outside the city.
De Blasio urged the business group to do more to uplift the city's struggling residents, and encouraged its members to back his overhaul of New York's workforce-training program, as well as his expansion of the city's living wage law. He also asked them to support his plan to develop or preserve 200,000 units of affordable housing by 2024.
The association holds a significant place in the story of de Blasio's political rise.
In 2012, he was an overlooked, long-shot mayoral candidate when he used a speech to the group to announce his plan to raise taxes on the rich to fund a pre-kindergarten expansion, a proposal that became the centerpiece of his campaign.
A year later, he returned to address the association again just days before he became mayor. Thursday marked his first remarks to the group as mayor.
Though de Blasio's relations with Wall Street executives and other business leaders could hardly be considered cozy, they have improved somewhat, in part due to the mayor's outreach. He recently hosted several industry heavyweights for meetings at City Hall and worked with several business leaders during the city's ill-fated bid to host the 2016 Democratic National Convention.