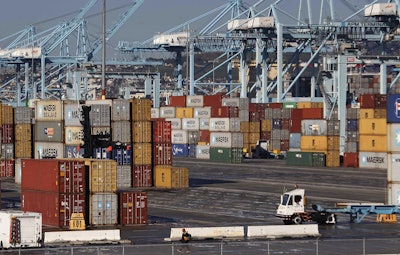 LOS ANGELES (AP) — After reaching a tentative contract agreement that covers the West Coast's 29 seaports, dockworkers are clearing an immense backlog of cargo that accumulated as their negotiations with employers stalled.
Overall, the ports handle roughly one-quarter of U.S. international trade, an amount worth about $1 trillion annually.
With the contract impasse resolved, here are some questions and answers about how we got here and what comes next:
JUST HOW BAD IS THE CARGO BACKLOG?
Very, very bad. Hardly-ever-been-worse bad. Consider this: The 24 container ships anchored Monday outside the ports of Los Angeles and Long Beach hold so much cargo that if all their containers were stacked up they would rise more than 300 miles, greater than the orbiting altitude of the International Space Station. And that's just Southern California. There are smaller, though substantial, backups in San Francisco Bay and Puget Sound in Washington state.
The bottleneck has ensnared farm and manufacturing exports as well as imported auto parts, toys, furniture and coffee beans — just about anything the United States trades with Asian nations.
HOW DID IT GET SO MESSED UP?
Last fall, members of the International Longshore and Warehouse Union began slowing their work. Companies that operate marine terminals responded by locking out many workers. Major ports never closed fully, but the back-and-forth caused the shipping jam.
Compounding the labor-management strife were unrelated problems. In Los Angeles and Long Beach, the nation's largest port complex, there was a shortage of truck beds to carry containers to and from dockside yards.
More broadly, consolidation within the shipping industry led to instances in which cargo was randomly loaded aboard ships in Asia, rather than being grouped by importer or destination, causing disorder that some likened to the colors in a jar of jelly beans.
DOES THE TENTATIVE AGREEMENT RESTORE LABOR PEACE TO THE WEST COAST DOCKS?
Under the contract deal reached Friday, leaders of the union and the Pacific Maritime Association of companies that own, load and unload ocean-going ships agreed to move cargo as fast as possible.
That started happening over the weekend, with the exception of the Port of Oakland, where a labor-management dispute related to work breaks escalated and the port shut down Sunday.
On Monday, the union did not supply experienced operators of cranes that load and unload containers, so just one of nine ships was being worked during the day shift.
Oakland handles about 10 percent of the coast's total seaborne trade, so the impact is not huge — but it is exasperating for importers and exporters who thought goods would move freely with the labor deal in place.
HOW LONG WILL IT TAKE TO CLEAR UP THE MESS?
Port officials estimate from six to eight weeks in Oakland, and three months in Los Angeles.
WHAT'S SO 'TENTATIVE' ABOUT THE CONTRACT DEAL?
The five-year agreement was between negotiators who don't have the authority to reach a final deal. The full membership of both sides must vote.
For the union, that will take about two months. First, a caucus of elected delegates meets to discuss the contract, the details of which have not been released publicly. The caucus then makes a recommendation to the rank-and-file, and the union's 13,000 voting members have the final say.
Employers have not yet said when they expect a vote.
LOOKING OVER THE HORIZON, WHAT'S NEXT?
Officials at West Coast ports, which as landlords were not involved in the contract talks, are worried about reputational damage. The current congestion crisis is not an isolated event — there have been periodic work slowdowns and there was a full lockout in 2002 that lasted 10 days.
Competitors are trying to capitalize on anxiety among importers and exporters. Ports in Canada and Mexico want to attract Pacific Rim business. With the widening of the Panama Canal, Gulf Coast and East Coast ports are trying to poach cargo ultimately headed to markets in their regions.