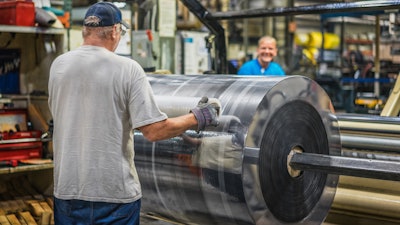 Continental's Wahpeton, North Dakota, facility got its start as family-owned WCCO Belting, a company which grew from a few employees to more than 300 over the 70 years it has been in business.
Now, as a Continental production facility, the company has carried on its people-first culture, which stems from its Midwestern roots and values. These values have proven successful in multiple ways, leading to increased profitability, a full order pipeline and a successful business.
Creating and maintaining a purposeful culture doesn't happen by itself. It takes commitment and dedication – and like anything, is sure to be met with some road bumps. The following tips come straight from our own playbook, which has a proven track record. Culture, in fact, is the rubber band that keeps our employees happy on the job and coming back day after day.
Implement strong programs to attract, retain and support employees.
For years, North Dakota has had a nearly zero percent unemployment rate, which makes workforce retention a top priority. Years ago, we implemented a robust training program, which offers more than 100 courses, to make sure that all employees, no matter their prior experience, learn how to do their job in a similar way as their colleagues. This ensures that everyone starts on a level playing field. Ten years ago, we implemented a Kaizen-like employee suggestion program, giving all employees a voice. We encouraged employees to make recommendations about how we could better run the facility, from a potentially simple task on the production floor to make a job easier, to more broad sweeping changes that impact multiple areas. Over the years we have received more than 3,800 recommendations to improve the business, over 60 percent of which have been implemented.
Create a strong referral program.
No one can better explain what it is like to work at the facility than a current employee. We rely on and reward current employees who refer new people to us. In fact, nine out of ten new employees working at the facility are from internal referrals. This has resulted in acquaintances, friends and members of the same family working at the facility, including multiple generations of family members all working together.
Create human connections with each employee no matter their position, from interns to executives.
As a formerly family-owned company, we used to say that our employees were like family, because family was a critical component of the business. Today, we continue to treat every employee like family because we know these human connections keep people happy and show we care.
Provide opportunities for community connections by hosting events and fundraisers.
In 2021, we overhauled our wellness committee to create the CREW Team, which helped us build and maintain a Culture of Respect, Engagement and Wellness. The programs hosted by the CREW team engaged employees on their journeys at the company in meaningful ways. The CREW Team hosts meetings on topics related to physical and mental health, financial wellness, career development, safety, and team-building. CREW also coordinates company events to say thank you to employees and organizes fundraisers for employees to give back to the community if they so choose. As a result of the new CREW program, we saw an impressive 200% increase in participation in internal employee engagement activities and in community support in 2021.
Preserve company culture through a zero-tolerance policy for those who contribute to a toxic workplace.
Sometimes our facility is not a fit for an employee, and that's OK. One way we ensure company culture stays positive and successful is to have zero tolerance for employees who are bringing others down, not showing up to do their job or showcasing negative or potentially harmful behaviors. It is hard to let go of employees who aren't cutting it, but it is also necessary if the flip side is bringing toxicity to the production floor.
This list is not exhaustive. It takes constant review and enhancements to keep our employees happy and to keep our culture where we want it to be. We are constantly working on taking care of our employees and ensuring a positive culture for those who show up every day. I know that every facility is different, and what has worked for us may be different than what will work for you. If any of these recommendations are not already a part of your culture, however, it may be worth looking into adopting them. Securing a positive company culture at a medium or large size facility is doable no matter the product being manufactured.
Rod Koch is the plant manager at Continental's Wahpeton facility, formerly WCCO Belting.