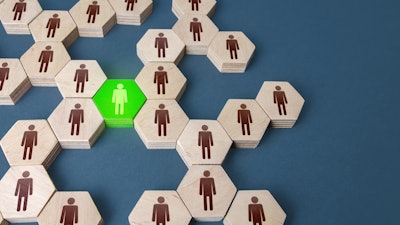 iStock
Last summer, as I was crisscrossing the country on my "We Supply America" tour, I was fortunate to spend some quality time with the team at Milhench Supply Company, an independent and family-owned jan-san and facilities maintenance distributor in New Bedford, Mass.
A highlight of my visit was meeting with Bill Westgate. Bill had a 42-year career with Milhench Supply Company and today uses that experience to mentor up-and-coming warehouse personnel.
While we were grilling lunch, I watched Bill as he walked up to the owner and shared that he had a lead for the company. He went on to describe how perfect this business would be as a customer.
What makes a semi-retired individual go out of the way to prospect new business for his employer?
A strong bond, that's what.
It's nothing new. I saw this bond repeated over and over again on the road during the We Supply America tour – a bond rooted in respect, dignity and even love. It's special.
Distribution is a people business. Sure, digital transformation is all the rage, but at our core, we are a people-first industry. ChatGPT AI is never going to take over 100% of the jobs of a distribution business. (I, for one, would not want to be a part of that depressing world.)
People power distribution.
I often talk about how the distribution industry is at an inflection point and my encounter with Bill solidified that.
How do we power distribution into tomorrow? To find out, we surveyed over 230 distribution leaders over the past couple of months in the latest installment of the Future of Distribution research series. Here's what we discovered:
77% of distribution leaders believe the Human Resources function must become more strategic.
A whopping 88% believe that employees' needs, wants and desires have changed.
And 88% believe the traditional employee value proposition must be reimagined.
What do these numbers mean? It means there is a fundamental transformation underway between employees and employers. It means that the disciplines we have in place are also at a turning point. Today's Human Resources departments can either bridge the gap between companies and employees or widen the space between them.
However, Human Resources is often not prioritized. It's often, for example, delegated as a second job to an admin – when he or she has time to work on it.
But if you don't elevate the role of Human Resources beyond the administration of paperwork and compliance, you'll fall behind.
As Bill Condron, CEO at The Granite Group, once told me:
"You have to put your people first. If you build a culture where your people feel valued on a day-to-day basis, they're going to be your best marketers for finding new talent and letting them know that this is a team you want to be on."
Bill knows the jobs that The Granite Group provides and the careers they foster impact the whole person. Sure, any job has an impact on the work-a-day lives of its employees, but it goes beyond that. The Granite Group's leaders consider how the company can positively affect the lives of its employees holistically, and they make it a priority to do so.
That requires moving beyond just managing policies and procedures, especially as we move further into 2023. These 10 key Human Resources trends this year demand this change. Our recent research shed some light on why today is the time to invest in Human Resources.
1. Competition for your next team member is stiffer than ever.
At one end of the spectrum, fewer young people are entering the workforce. At the other, Boomers are retiring. Chances are that the skilled labor shortages we've been experiencing will only grow in the coming years.
As a distributor, you can't control these trends. In poker terms, this is the hand we've been dealt. Not just us, but every employer in the country. The fact is, some will win in this environment, and some will lose.
Eighty-three percent of distributors in our latest research say their ability to attract and retain talent is a crisis for their business.
A "crisis."
And only 15% of distributors significantly agree or agree that they are perfectly positioned to win the war on talent.
This way of thinking must change. I believe we can win. What I saw on the We Supply America tour were cultures and leaders that worked for today's employees. Just like I saw at Milhench or The Granite Group, people are hungering for a place that takes them as they are, and gives them opportunity to grow.
I'm putting my money on long-term thinking over decisions to please Wall Street; a culture of dignified respect and family vs. those where employees are just a number; and leadership with a deep purpose seeded in the local community.
For that to happen, distributors need to turn the traditional function of HR on its head.
2. Employees are no longer satisfied with just having a job.
The power has shifted from the seller to the buyer. Customers have gained leverage in the market, and they haven't been afraid to use it.
Similarly, the power has shifted from employer to employee. It's moved from a transactional relationship – "You need to make money; I have a job that needs to be done." – to one that goes much deeper.
Eighty-eight percent of distributors in our Future of Distribution research believe that employees' needs, wants and desires have changed. Studies show the younger the worker, the more important qualities like flexibility, empathy and personal growth are to job satisfaction.
"There are fewer people who want to work in the way our society has structured work."
That's Margie Rodino's take; she's the Chief Culture Officer at Robert Weed Corp., a distributor of wood composite and associated products. In response to this reality, the Robert Weed leadership overhauled the company in what they coined their "2.0 Transformation," reinvesting in culture and their people. Regardless of the role, title or tenure, workers are given opportunities to fulfill their potential in and outside of the walls of the company.
Robert Weed's CEO Will Weed agreed: "It's about the sustainability of our business, keeping people employed and creating equilibrium both in our markets and our personnel."
In St. Louis, Mo., another leg of my We Supply America tour, I met Chico. He works as a lead in the wire department at Holt Electric. He told me about the 10 and a half years he spent at his previous employer where he was never provided an opportunity to fulfill his potential. In fact, he told me: "There was no light at the end of the tunnel."
But from day one at Holt, they gave him the opportunity for upward mobility. He beamed: "It is a blessing and a half to be here."
It's about more than "just a job." It's about the human at the center of it all. In fact, commonly accepted terms like "human resources" and "people as assets" may be holding distributors back from reaching their full market potential.
Distributors that have focused on the "human" in human resources have redefined the employer-employee relationship for greater success. It goes beyond rewards and bonuses. It's about creating an environment where employees feel their work is meaningful, where they can grow and develop.
It's in the daily conversations we have with each other. It's how we relate, on a human level, to the people we work with and for. It's taking a minute to learn what motivates others, what inspires others, and how we can help people grow. Breaking down barriers that hierarchies make so that people feel recognized, supported and valued.
It goes beyond the job. It's about injecting humanity back into business.
3. Work-life balance is being redefined as life-work balance.
Leaders are being called to support employees in both personal and professional ways. People work for the benefits it provides them, not for the benefits it provides the company. They want to be part of something that enables their life's aspiration.
Businesses are becoming more human. The focus is shifting from a purely transactional model to one that is a hybrid of commerce and compassion. Leadership and learning. Balance sheets and balancing life and work.
Life-work balance — with an emphasis on life.
Work is being redefined, and the Human Resources role needs to play a key part in that. For Robert Weed, this meant changing how they structure the work week and vacation time to enable greater flexibility for families. It also meant bringing on a life coach to help develop their people personally and professionally.
In a study by Personal Capital and The Harris Poll, over 60% of Americans wanted to change jobs, but that number rose to 90% for Gen Z. And 85% of Gen Z workers in the same poll said they would agree to a tradeoff such as a pay cut to work from home when they want, a higher percentage than the other generations in the survey.
As one distributor told us: "If your organization is not a people-first organization, your people will find one."
People Are Your Future
Like I mentioned earlier, AI and chatbots will not replace human beings. The only sustainable competitive advantage businesses have is the talent from their people. That's why the ability for a leader to connect, empathize, understand and communicate will be critical going forward.
As leaders of distribution companies, you have a tall order. The Human Resources profession is undergoing a tsunami of change and a dual mandate:
Strategically support your business objectives while ensuring the well-being and fulfillment of your employees.
The role of HR can't be overstated in 2023. Staying ahead of the curvy in HR is vital for the success of any organization. Take these 10 HR trends we compiled for distributors in 2023.
We launched the first Human Resources Summit for distributors this year to help distributors respond to and capitalize on these trends. To build a great organization and withstand external negative forces, you need great people to succeed long-term. Your growth will always be defined by people.
They power it all.
Dirk Beveridge is the founder of UnleashWD, executive producer at We Supply America and president of the Beveridge Consulting Group.