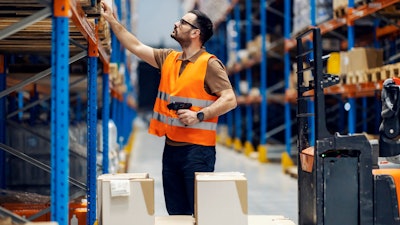 iStock
When times are soft, cash flow is your lifeblood.
Drivers of cash flow include getting paid quickly, managing your accounts payable strategically, growing sales, and keeping your overhead low. Another big driver: turning over the inventory in your warehouse.
Inventory ties up a lot of cash.
If you've been hanging onto a surplus of inventory, even as supply chains in some markets normalize, that's taking up valuable space. That means higher carrying costs, which includes insurance, employee costs, warehouse storage fees and more. It also means less warehouse space for items you can turn quickly, and fewer resources to invest in other aspects of your business.
But despite these opportunity costs, and the actual costs associated with less-than-optimal inventory management, what distributors need to do next is not quite as clearcut.
After all, distributors are facing:
Unclear supply: It's difficult to provide great service and clear expectations when you don't know when you'll be able to fulfill an order because of murky visibility on lead times.
Unclear demand: Many distributors base future demand on past behavior — and that can leave them unprepared for unexpected shifts.
Unclear visibility into stock across your organization: A product you need might be at a different location — but if you don't have real-time visibility into what's going on at the other store or in another DC, you might miss an opportunity to provide more efficient service to your customers.
Human error: The more you ask your team to manually enter information, such as inventory information into multiple systems, the more you increase the chances of an error occurring.
Obsolete inventory: Inventory that's just sitting around is doing nothing for you.
Duplicate inventory: Duplicate inventory, where you're carrying too much of the same product but from different suppliers, ties up space in your warehouse, stunting cash flow, as well as the revenue you could be bringing in through other product lines.
In a 2022 inventory management survey, 71% of respondents reported that their inventory management practices needed work. Many of these respondents also reported on their plans to implement positive changes in the coming year, including additional automation, more robust reporting tools and enhanced warehouse efficiency. Each of these can be implemented fairly quickly and easily with the right technology and processes.
Here are other steps we've seen distributors take toward more proactive and cash-flow friendly inventory management:
Improving forecast accuracy. When you can accurately forecast future demand, you ensure you have enough inventory to satisfy customer needs while minimizing excess stock collecting dust in your warehouse.
Prioritizing visibility into inventory performance. It's critical to have the ability to access real-time data and analytics on inventory levels, stock movements and other related metrics so that you can make informed decisions to optimize operations.
Improving communication with suppliers. If you're not communicating with your supply chain partners through a period of uncertainty, you're likely to end up in the dark with a lot of unhappy customers. Without it, you risk increased lead times and a poorly optimized flow of goods. Tools exist that enable real-time communication with your vendors.
Improving communication with customers. More consistent visibility into your customers' needs and plans help you keep pace. This also ensures that no one is caught off guard when disruption inevitably occurs.
Breaking down data siloes. This helps you gain better visibility into inventory performance and status across your organization.
Linking systems across your organization to reduce manual data entry. This not only reduces human errors by transferring data seamlessly between parallel platforms, but it frees your team to build your business rather than just manage it.
Moving toward better inventory management isn't just a nice idea. It's critical to supporting a healthy and strong foundation that can weather any uncertainty that may come your way.
Jeremy Centner is the pre-sales solution architect director at Sikich on the Enterprise Technology team.