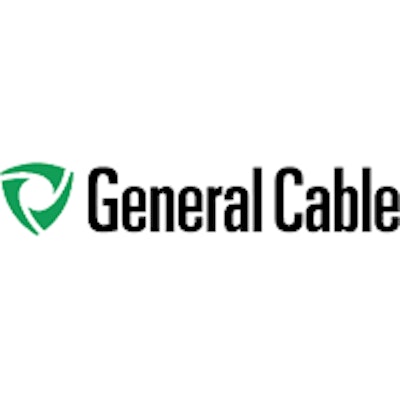 HIGHLAND HEIGHTS, Ky. — General Cable Corporation (NYSE: BGC)  on Thursday reported results for the third quarter ended Sept. 26, and announced actions to refine its strategic focus, improve operational performance and address management succession.
John E. Welsh, III, Chairman, said, "The Board has concluded its extensive review of the company's strategic alternatives and operational structure, and has determined that the best way to maximize value to shareholders in the current global environment is to simplify our geographic portfolio, reduce operational complexity and focus on delivering increased returns from our core strategic operations in North America, Latin America and Europe. We believe these actions will optimize the company's asset base and sharpen the company's strategic focus on its core assets, while retaining a meaningful level of exposure to developing economies that may offer future growth opportunities."
Gregory B. Kenny, President and Chief Executive Officer, said, "We are making excellent progress on our previously announced restructuring program but, given the persistently uneven global demand and pricing environment, we have decided to accelerate and expand our efforts. As we exit our manufacturing operations in Asia Pacific and Africa, we will step up our efforts to improve returns from our businesses in North America, Latin America and Europe where we maintain leading market positions, economies of scale, breadth of product and technical expertise. There are a number of global businesses centered in our core footprint. We will continue to serve our international customers as we have always done from these locations. We believe the fundamental changes we are announcing today will better position the company to benefit from future energy, infrastructure and construction investment in our core strategic markets."
The Board was assisted in its strategic review by its financial advisor J.P. Morgan. The company is developing a divestiture plan for its Asia Pacific and African assets and Peter A. Campbell, Executive Vice President and Chief Executive Officer of General Cable Asia Pacific, will direct these operations during the divestiture process. The operations in Asia Pacific and Africa represent annual revenue of approximately $1.0 billion on a consolidated basis.
CEO Transition plan: General Cable also announced that, consistent with its ongoing focus on succession planning, its Board has formed a search committee to identify the company's next Chief Executive Officer and has retained an executive search firm to assist in the process. Current President and CEO, Gregory B. Kenny, will continue during the search and is expected to become Chairman of the Board upon the appointment of a new CEO.
Plans to expand Board of Directors: The Board has commenced a process to identify and appoint an additional operations-experienced independent director. The company has engaged an executive search firm to assist in the process and has already identified potential candidates with strong operational experience in energy infrastructure, manufacturing and/or related industries.
Significant progress on restructuring program: The company has made significant progress on its restructuring program, including the announcement of planned actions in Europe and Colombia which together are expected to generate approximately $48 million of ongoing annual savings and result in one-time pre-tax charges in the range of $130 million, including $40 million of cash. The estimated costs of the program are tracking according to plan with anticipated total pre-tax costs of $180 million, or approximately 90 percent of the total estimated pre-tax costs, announced through the third quarter. Overall the restructuring program is also tracking according to plan with approximately $60 million or 80 percent of the initiatives to generate annual savings of $75 million announced through the third quarter. While savings are beginning to be realized in the second half of 2014, the company expects approximately $30 to $40 million of incremental savings to be realized in 2015 increasing to the full targeted annual savings of $75 million beginning in 2016. The cash payback of the restructuring program is expected to be 1.3 years.
Third quarter financial results: Net sales for the third quarter of 2014 of $1,472 million were down 6 percent as compared to the third quarter of 2013. Excluding shipments of aerial transmission cables in North America and Brazil, global unit volume for the third quarter of 2014 was flat year over year as demand in North America and ROW helped to offset the impact of demand weakness throughout Europe including Spain. Adjusted operating income for the third quarter of 2014 of $55 million increased $11 million or 25 percent from $44 million in the third quarter of 2013 (excluding Venezuela from both periods) principally due to results in the Company's North American electric utility, electrical infrastructure and rod mill and strip aluminum businesses as well as the company's restructuring/cost out initiatives. 
Revenues in the fourth quarter are expected to be in the range of $1.425 to $1.475 billion. Global unit volume is anticipated to be flat to up low single digits sequentially principally due to aerial transmission cable shipments in North America and Brazil. The company anticipates adjusted operating income to be in the range of $40 to $55 million for the fourth quarter.
"Overall, our third quarter results and fourth quarter outlook reflect the continuing uneven global demand and challenging pricing environment. Putting aside fourth quarter seasonality, we are beginning to see some signs of improvement in North America which continues to be a source of relative stability. We are highly focused on our restructuring program execution and delivering our cash flow targets as we tightly manage our inventory over the final quarter of 2014 and into the new year," Kenny concluded.